The Table Saw Motor Guide
Table saw motors are pretty much the heart of these tools, so it's clearly a very important feature and one you should pay attention to.
Most motors that you'll find on the big name brands will do their job well. You just need to decide how much power you need before buying – and that's going to depend on what you plan to be cutting.
Two things come into play here – the horsepower and the drive type which we'll cover both in this quick table saw motor guide.
Horsepower
Every table saw will have the horsepower of the motor listed, and you'll find that most portable saws and plenty of stationary saws will have 1-2hp.
But what does that actually mean in terms of what you'll be able to do with the saw?
This is sort of difficult to judge, but a simple rule is that if a motor has 1-2hp it's going to make up to 2 inch cuts without issue.
If you plan on cutting thicker lumber or hardwoods, then you'll definitely want to consider a table saw with a more powerful motor. Unlike simple features like a fence or miter gauge, the motor isn't something you can easily upgrade later.
There's table saw motors in the 3 to 5hp range as well, and these make for much more capable tools. Our table saw buying guide also features several powerful table saws with a motor in the range of 3 to 5hp.
Side note: If you ever find your saw getting bogged down by a cut and struggling, don't push it by continuing the cut. If the saw gets too bogged down there's a good chance it will grab the piece (rather than cut through it) and throw it back at you. This is the dreaded "kickback" that you always want to avoid.
Motor Drive Types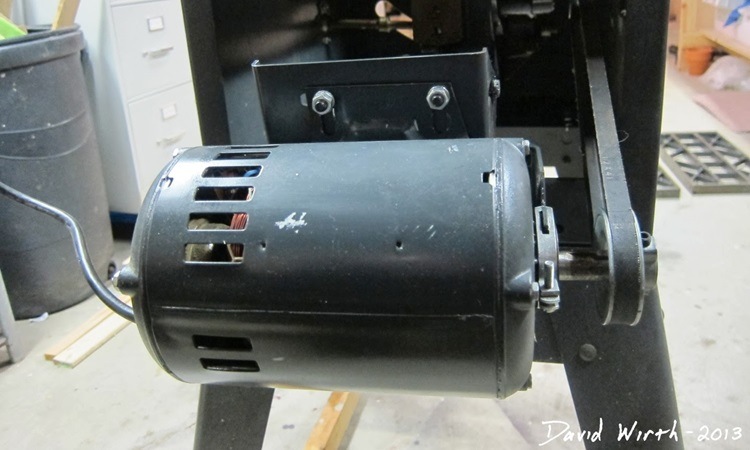 In table saws, there can be a direct drive motor or a belt drive motor. This isn't necessarily something that will be very important to your buying decision (unlike horsepower), but it's useful to know.
Direct Drive Motors
DEWALT 10-Inch Table Saw, 16-Inch Rip Capacity (DW745)
22 kilograms unit weight and optimized footprint make this the most portable saw in its class. Shoe bevels 0 to 45 for beveled cuts
Steel roll cage protects saw against jobsite drops and impacts, rack and pinion fence system, front and rear fence lock and large, clear scales combine to give an extremely accurate and easy to use saw
Powerful 1850 Watt motor for high performance in all applications. Max Rip To Left Of Blade 12 inch. Max Rip To Right Of Blade 20 inch
Fence system provides 610 millimeter of rip capacity in a portable design for cutting large sheet materials to size
Cast table top design ensures accuracy and precision, Overload protection system ensures powerful performance in hard, wet or frozen woods, Quick bevel lock with large scale for easy, accurate adjustments
Direct drive motors are connected directly to the saw blade. Because of this, most of the power can be effectively tansfered from the motor to the blade with very little engery loss.
They're also much quieter than a belt drive saw, and require less maintenance – The belts in a belt drive motor need to be replaced somehwat regularly, which means regular maintenance. Not the case with a direct drive saw!
Being lightweight, quiet, and smaller makes direct drive motors perfect for portable table saws like Dewalt DWE7480. They're also cheaper than belt drive motors.
All this comes at tradeoff in comparison to belt drive motors of course – direct drive motors don't produce as much power or torque. This isn't a big deal on portable table saws since their functionality is also limited in other ways.
But on most contractor, hybrid, and cabinet saws you'll find belt drive motors.
More power and torque means these motors can better deal with the wide range of woods and tasks required by stationary table saw owners.
Belt Drive Motors
Rockwell RK7323 BladeRunner X2 Portable Tabletop Saw with Steel Rip Fence, Miter Gauge & 7 Accessories
[SETS UP IN SECONDS] Take this table saw to the job site or move it around the workshop. There's even a built-in carry handle
[CUTS LIKE A FULL-SIZE] With the standard guard and riving knife system you can perform rip, cross, scroll, and miter cuts
[TOOL-LESS BLADE CHANGE] Uses any brand's standard 4" T-shank blade, but we threw 5 in the box to get you started cutting wood, ceramic tile, plastic, aluminum, and metal
[0-60° MITER CUTS] With the adjustable gauge you can pull off precise miter cuts for a whole assortment of woodworking projects
[ON-BOARD ACCESSORY STORAGE] When the miter gauge, rip fence, and extra blades aren't in use they can be conveniently housed in the base of the saw
Unlike direct drive, belt drive motors aren't connected directly to the blade – they're connected with a belt and pulley system which transfers power to the blade.
This of course requires more space in the saw body, and as mentioned it also makes the saw louder and increased the amount of vibration.
Although these motors needs to be serviced more regularly, they also have a longer lifespan. Direct drive motors tend to collect a lot of dust, as they're located right beside the blade. Belt driven motors are positioned further from the actual cutting, so they catch less dust and thus have a longer lifespan.
This, along with the increased power and torque (as compared to a direct drive motor), means belt driven motors are the only choice for serious stationary table saws that are designed to last for decades and handle any number of difficult tasks.