Source: woodworkingtalk.com
Bosch 4100-09 Review
If you want access to over 16,000 woodworking projects that give step by step instructions check out Tedswoodworking, the number 1 resource for woodworkers.
Welcome to our Bosch 4100-09 review – This is a jobsite table saw, and winner of our "best jobsite table saw" award.
Pros
Extremely lightweight and features Bosch's gravity-rise stand for premium portability
Powerful 4-hp motor
Easy to use tool-free blade guard and riving knife
Cons
Ripping capacity could be improved
Fence might get stuck often and needs careful adjusting
General Functionality
Source: woodworkingtalk.com
Bosch is one of the most well known and trusted power tool manufacturers in the world. With that in mind, the general functionality of the 4100-09 is pretty great, as with most of their other tools.
Something you'll notice throughout this Bosch table saw review is that we'll continually reference the general build quality of this saw – That's just one of the nice things you can always count on from an established manufacturer like Bosch.
Motor
With a 3,650 RPM motor, the 4100-09 actually runs a little slower than many of the comparable saws out there.
Don't confuse a slower RPM for less power, though. This Bosch table saw runs a 4 hp motor, which is more powerful than many others.
As usual, the motors in these portable table saws aren't a big deal – they are all powerful enough to do the jobs you would expect from a jobsite saw. You won't be ripping 3 inch thick hardwoods, but this saw will make short work of standard lumber.
Blade
This runs a 10 inch blade, and comes with 40-tooth carbide-tipped blade.
Bosch build table saws, not blades. You'll definitely want to buy a great blade to go with your 4100-09 – but that's no different from any other portable table saw.
Ripping Capacity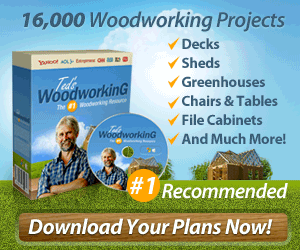 Like most comparable saws, the Bosch has a retractable extension which runs out to the right side of the blade.
At full stretch it'll provide a 25 inch ripping capacity. This is just OK. Not great, but just about average for table saws in this category, and it'll certainly do most of what you need on a jobsite.
There's also a handy visual signal to show you when the extension is locked in place. It's a little piece of plastic that rises above the table surface when not locked in place.
The idea is that you'll notice the extension isn't locked before making a cut because your piece won't fit flat thanks to the piece of plastic sticking out of the otherwise flat table surface.
Nice little feature!
For a comparable saw with great ripping capacity, you might consider the Dewalt DWE7491RS. The portablility can't compare to the Bosch, but the Dewalt does have a slightly greater ripping capacity and a much better fence.
Blade Height and Bevel Adjustment
These work easily and perfectly on the Bosch, as is to be expected.
The handles are grippy and sturdy, making it very easy to unlock, set your required height or bevel precisely, and lock them down tightly agian.
No complaints here, they just work as intended.
Dust Collection
This can often be an issue with jobsite table saws simply not being so effective at collecting dust.
Indeed there's always going to be some cleanup after cutting, but I'm glad to say the 4100-09 does a pretty good job of collecting most dust.
There's a standard dust port to connect a shop vac, and the overall collection is pretty good for a jobsite table saw.
If efficient dust collection is especially important for you, consider a reliable hybrid table saw like Shop Fox W1819 instead.
Fence and Miter Gauge
Source: woodworkingtalk.com
This is the part of our Bosch 4100-09 review that I wasn't looking forward to writing…It's really difficult to find a great fence on any sort of portable saw, and unfortunately the Bosch 4100-09 is no exception.
Portable table saws struggle with this because most often the fence needs to be easily removable. The saws are designed to be used and then stored away quickly – which often means the fence needs to detatch easily and is usually stored neatly somewhere on the saws body.
That's the case with the Bosch – the fence certainly tucks away neatly in it's storage at the side of the saw's body when not in use.
Then during setup, you simply slot the fence onto it's rails and and clip it in place. It's very simple and straight foward.
The unfortunate thing about this fence comes from the actual usage. It's made of plastic and feels a bit cheap, and it won't slide smoothly along it's rails like the fence of a lovely stationary table saw.
You'll need to slide and adjust it rather carefully, and it'll often get stuck and require two hands for accurate adjustment. You'll also want to double check squareness with a tape measure after every adjustment.
This is just one of those things with portable table saws.. portability is of course a priority, and with that you have to sacrifice some functionality.
With that said, the Dewalt DWE7491RS (another jobsite saw) has an amazing fence. It also has a greater ripping capacity – so if this additional functionality is more important to you than portability, it might be something to consider. Although keep in mind that it's also 30lbs heavier, and the stand is much worse than that of the Bosch (which we'll discuss later in this article).
As for the miter gauge, it's pretty much what you's expect. It's plastic and easily slots into a groove in the table. It's easy to use and will do the job, but it lacks that quality feels you'd get on a stationary table saw.
Again, it's just one of those functionality tradeoffs that come with a portable table saw.
Safety Features
Manufacturers of portable saws have really stepped up their game lately when it comes to safety gear.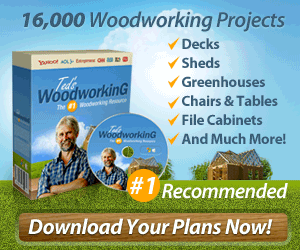 That's partially due to regulations demanding they meet certain standards… but aside from that, safety gear is also becoming easier and easier to use.
Traditionally, blade guards and splitters or riving knives have been a pain to use. Usually awkward to fit in place or adjustment, and often causing inconveniences during cutting.
This is no longer the case on many portable saws, and I'm glad to say the Bosch 4100-09 is one of them.
This jobsite table saw features a tool-free blade guard and riving knife. They simply clip in place in about 2 seconds.
The blade guard is split in two, so you can raise one side or the other to watch a piece as you make a cut. Or you can easily raise both when preparing for a cut and they'll lock in place out of your way.
You'll always be able to use the riving knife, no matter what sort of cut you're doing. It can be set to different heights, so even for non-through cuts or dados you can still have the riving knife in place for extra safety. Again, this is all easy and tool-free.
In short, the safety features on the Bosch 4100-09 are great. They're not only effective, but the fact that they're so easy to use means you won't feel a temptation to not use them.
That used to be an issue with older safety gear.. it was such a hassle, that it was often tempting to just not use it.
I really like this trend of tool-free safety features on table saws. Similar systems can be seen on Dewalt portable table saws, and other brands.
Portability
Source: woodworkingtalk.com
Oh boy, this is where the Bosch really shines. If portability is a high priority for you in a jobsite table saw, the 4100-09 is definitely for you.This portability is by far the best feature reviewed in our Bosch 4100-09 review.
Firstly, this thing is lightweight. It weighs only 60lbs. To put that in context, our runner up for "best jobsite saw" was the Dewalt DWE7491RS that I've mentioned a few times – and that weighs 90lbs.
The second thing to mention here is how easily you can store all the bits and pieces that go with a table saw, on the body of the saw itself.
The safety gear, fence and miter gauge, and even extra blade can all be stored easily and securely on the table saws body. This is a pretty crucial feature on a table saw that aims to be highly portable.
And now we get to the most impressive thing about this table saw – the stand.
The 4100-09 features Bosch's gravity-rise stand – and it's just amazing. It's by far the best stand we've seen on a jobsite saw.
When folded up, the saw will stand vertically on the stand (which also has wheels) – this makes it very easy to wheels around, and also to store tightly to a wall and out of the way.
After wheeling the stand into position, you simply lay it flat on the ground and open the stand vertically. The stand does most of the work for you in raising the stand and saw up to it's full height.
Not only is the setup easy, but the wheels stand itself are very sturdy. They're designed to be uses many times a day if needed, and can certainly take a beating that often comes as part of the life of a jobsite saw.
Conclusion
So that's it for our Bosch 4100-09 review – this jobsite table saw certainly isn't perfect, but it is by far the best in this category of table saw for portability.
The stand really makes the 4100-09 stick out from the crowd. That combined with it weighing only 60lbs makes it easily the most portable jobsite saw we could find today.
On top of that, it also runs a powerful motor and is capable of precise cuts on most standard pieces of lumber – if you're not planning on cutting 3 inch hardwoods, this saw will serve you well.
The only area that lets this table saw down a little is the fence. It still works, it's just not as nice to use as that on the Dewalt DWE7491RS.
So in conclusion, if you need a powerful table saw that prioritises portability and durability, you'll love the Bosch 4100-09. If you're not as concerned with portability and would like a little extra functionality, checkout the Dewalt DWE7491RS.