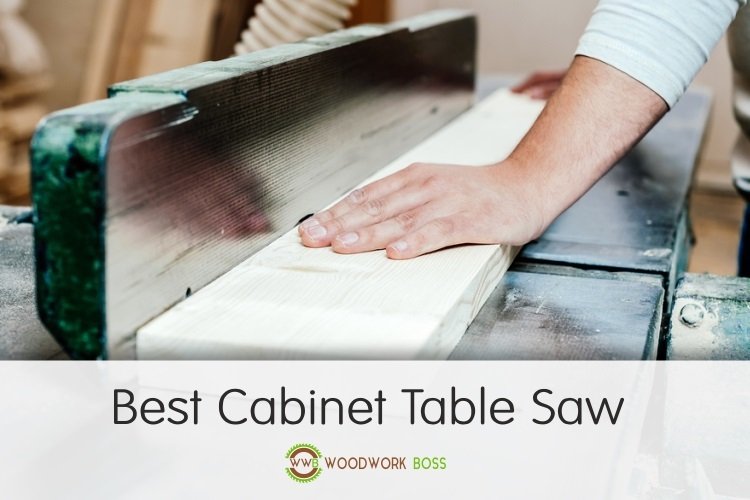 Cabinet Table Saw Reviews
If you have found your way to our guide on the best cabinet table saw, it's likely you are in the market for a beastly machine. Unlike portable or light-duty models, this style of saw is built for industrial use and can cut through thick stock like a knife through butter.
They are also quite expensive, and not something you want to buy without doing your research. Lucky for you, we've taken care of the hard part with the thorough cabinet saw reviews in this article.
You'll find top picks as well as mid-tier and budget options.
[table id=36 responsive=scroll /]
Choosing the best cabinet table saw
Before even starting you should ask yourself: "Do I really need a cabinet saw?" – These are expensive tools and very much designed with professionals in mind.
If you're a hobbyist and think you can get away with something smaller then you should, because it'll also be a lot cheaper!
Some tools may go a few years while others are built to last a lifetime. Table saws have a lifespan that's well above your typical power tool, and cabinet saws are sturdier than most. When buying a tool that will be in your shop for decades, there are many areas to keep in mind.
Power
How much power do you need?
That is the first question to ask yourself. The second should be what type of plug do you have in your shop or garage as you may need a bigger plug. Horsepower is tied to the voltage so more powerful machines will need a bit more juice.
1.5 to 2HP motors 
Table saw motors sized from 1.5 to around 2HP can run off a regular old 120V circuit. In other words, you won't need to deal with wiring or call in a pro to install a new plug. That's pricey, and not ideal when you're already spending over a grand on equipment.
Saws with motors in this class can typically handle hard stock up to 2-inches without breaking a sweat. If you deal with thicker wood, you will want to jump up to the next size.
3 to 5HP motors 
These big boys can handle everything their underpowered brothers cannot. That means lumber wider than 3-inches, but you will need a 240V outlet.
Having a larger motor definitely has its perks, but there is also a major drawback. That would be kickback, something you will have to deal with on more powerful saws. You can get around that with good safety features and common sense, but it is something to consider nonetheless.
Construction
Even the strongest saw on the planet will falter if the table is uneven or a weld gives out. Quality of construction is key with any high-speed tool – especially cabinet table saws.
In this class, you're going to get a lot of cast iron parts which is a good thing. Aluminum may be light, but that's not necessarily what you're after when you're ripping a 6" plank. The same goes for stamped steel parts, which aren't as durable as cast iron. Pay attention the stand or base as well and look for zero-clearance inserts.  
Safety
All the best cabinet table saws will have solid safety features in place. There are some interesting extras, however, including something called a flesh sensor.
The aptly named flesh sensor can detect skin and shut itself down within 0.01s of touching flesh. In case you are wondering how fast that is, it's quick enough to keep your skin from even receiving a scratch. In some cases, you may need a few stitches, but the technology effectively puts an end to lost fingers and lives.
While we won't delve into the tech, once the safety mechanism engages your blade and the braking system will be toast. It's a small price to pay compared to the alternative.
Size
Cabinet saws are large machines, so you have to be concerned about two things – length and weight.
One area you will not have to worry about with cabinet table saws is height. By nature, they are machines that sit about waist high and are comfortable to use. They can be extremely long due to their ripping capabilities, so you could have to clear around 60-inches in your shop one way.
Width is generally not a major concern, but you can't say the same for weight.
In olden times, these machines would have broken floorboards. Many weigh over 500 pounds, and it's rare to find one under 400 unless you're looking for a hybrid table saw. Flooring shouldn't be an issue for most folks these days but makes sure you find the machine a permanent home.
You don't want to have to move a cabinet table saw around unless you have to although some do have wheels.
Dust Collection
This may be the easiest area to wrap your head around, and it's also very important.
Dust collection on table saws is key. That means it should have a large port, so look for a saw with at least a 4" dust port if you plan to use it for hours on end. You'll still need a shop vac, but you also need an industrial-sized port.
Other things to consider
There is a strong change your saw comes with a blade although it's something that may get lost in the listing. Usually, the included blades aren't that great, so you may want to go ahead and pick up one to better suit your needs.
You may also want to check the size of the miter slot. Cabinet saws usually come with a miter gauge, but you may already have one or want to use additional accessories. If the slot is the wrong size, you may be out of luck.
The length of the arbor is important if you plan on using Dado blades, and while a splitter is great, a riving knife is even better.
Cabinet Saw Buying Guide
[table id=36 responsive=scroll /]
Best cabinet table saw 2018: Powermatic PM2000
Our top choice may not have a name that rolls off your tongue, but it's number one for a reason. The Powermatic PM2000 is a full-sized machine that's built for industrial use, and while it isn't cheap, you get what you pay for.
In this case, that's a high-quality cabinet saw which was also our pick as the overall best table saw. The build quality is second to none thanks to cast iron parts. The table and hand wheels are cast while the box style frame provides plenty of support and stability.
Those wheels make adjustments a breeze when you need a to make bevel cut or want to swap blades out. The push-button arbor lock also assists with the later. We think you'll appreciate the height of this machine, but it is a bit beastly.
When it comes to weight, you'll want to ensure you have enough support for this monster. It tips the scales at over 600 pounds and will take up a lot of space in your shop at 85" x 37" x 39".
Performance 
The Powermatic PM2000 is an accurate machine with a 3 HP motor and a full 5/8" arbor which can take Dado sets up to 13/16-inches wide.
The smooth table gives you plenty of room to work an expands to 42" when you add on the sturdy extension wings. The high-quality Accu-Fence system certainly helps in the accuracy department as well along with the angle indicators for bevel cuts.
Safety Features 
This saw will not keep you from lopping off a finger as there is no flesh-sensing technology in this particular model. That said, it does have all the standard safety features in place.
While the adjustable riving knife helps with kickback, the safety switch is what really stood out to us. It's magnetic and comes with a key which keeps the machine from being started accidentally. If the key isn't in place, the saw will not start.
Dust won't be an issue with the Powermatic PM2000either. It has a built-in dust collection system in the base which keeps the motor safe and your table clean of dust. A clean work area is paramount when it comes to cabinet saw safety.
Verdict 
This saw is for consumers that need a true workhorse, and want a machine that will outlast others. It will still need regular maintenance, and eventually, the motor may give out. With this saw, you'll get nice a 5-year warranty out of the gate.
The heft is a minor drawback but expected with a saw of this size. You can still move this one however as it has a retractable set of caster wheels underneath. The Powermatic PM2000 comes with everything you need to get started out of the box including a push stick, hardware bag, miter gauge, and fence.
Click here to read user reviews on Amazon.
Mid-tier choice: SawStop PCS31230-TGP236
If our top choice isn't your cup of tea or you need something a little cheaper, SawStop may have a solution for you in the PCS31230-TGP236. It's another machine in the Pro class, and one of the few cabinet table saw reviews that we conducted.
This saw has a 3 HP motor and sports a 36" T-Glide Fence system for accuracy and precision. It's a capable machine that will be able to handle heavier stock without issue. The cast table is sturdy as well and solid as a rock where it counts.
When you add on the extension, the legs are a little slim, but it's still a solid machine overall. It's also lighter than the Powermatic at 490 pounds. While you can't pick it up and move it around, the wheels on the bottom do help make things easier if you need to relocate.
Key tech specs for the SawStop PCS31230-TGP236 include a 4" dust port, a 5/8" arbor and a maximum depth of cut at 3 1/8-inches.  If you're cutting a 45-degree angle, that drops to 2 1/4-inches which is average for this class. It takes a standard 10-inch blade and has a 2mm thick riving knife as well.
While a riving knife is a handy safety accessory on any saw, that isn't the true selling point of the SawStop.
The SawStop Safety System 
This machine has the SawStop flesh detection system which stops the blade milliseconds after it senses skin.
It can detect a small electrical change instantly which in turn throws a brake of sorts. The blade hits the brake and drops down out of site to prevent damage to your finger and keep you safe from flying debris. It will destroy your blade and the brake, but you won't have to take a trip to the ER.
Replacements brakes for the system are inexpensive, but not cheap enough to where you want to put the system to the test intentionally. There are plenty of videos of it in action, so save your money and trust that it works.
Verdict 
The SawStop safety system is the main selling point of this saw, but it is far from the only one. It has plenty of pop and an attractive price tag as it's in the middle of the pack when it comes to pricing.
We also love the dust collection system on this model. Unlike traditional setups, the SawStop PCS31230-TGP236 has special blade guard and shroud that works alongside a vacuum to keep dust away. They claim it can capture 99% of airborne dust which is quite impressive to say the least.
The SawStop PCS31230-TGP236 offers up a lot of bang for your buck with only one glaring negative. You will only get a 1-year warranty with this machine, which may rule it out for some.
Click here to read user reviews on Amazon.
Budget choice: Jet 708493K JPS-10TS
Calling something "budget-friendly" when it costs over a grand is a bold statement to make. Well, it's one we will happily stand behind as the Jet 708493K is considerably cheaper than our top option and many other cabinet saws on the market today.
The Jet 708493K is perhaps the best looking cabinet saw on our list with a clean design and white frame. If it wasn't obvious at first glance, it's not nearly as rugged as other cabinet saws although still not quite what we would consider a hybrid.
The 10" saw only weighs 288 pounds, which makes it compact and more in line with a contractor model. There's a lot of stamped steel present, but it is solid in the middle. Unfortunately, we couldn't dig up any concrete info on the motor, but know it has a 5/8" arbor with a speed of 4000 RPMs.  There are no real standout features, but it will perform as advertised, just don't try to tackle tougher stock.
Verdict 
Most cabinet saws are built for pro use, and this one walks the line. It is not the most powerful saw we've come across nor is it the sturdiest. Stamped steel is not something on your shopping list when you're looking to buy an industrial style saw.
On the flipside, it performs well and is a machine you can actually move around or transport if necessary. That alone makes it ideal for consumers that want to stay mobile, and the price is very nice as well.
Click here to read user reviews on Amazon.
Conclusion
Whether you want a saw that can stop in seconds if your hand is in the way or one that can zip through a 6" plank in seconds, there is a cabinet saw for you.
Our choices for the best cabinet table saw only included a few alternatives although ones well-regarded by our experts and woodworkers around the globe. No matter which model you choose, keep our buying tips in mind as this type of saw is a substantial investment.