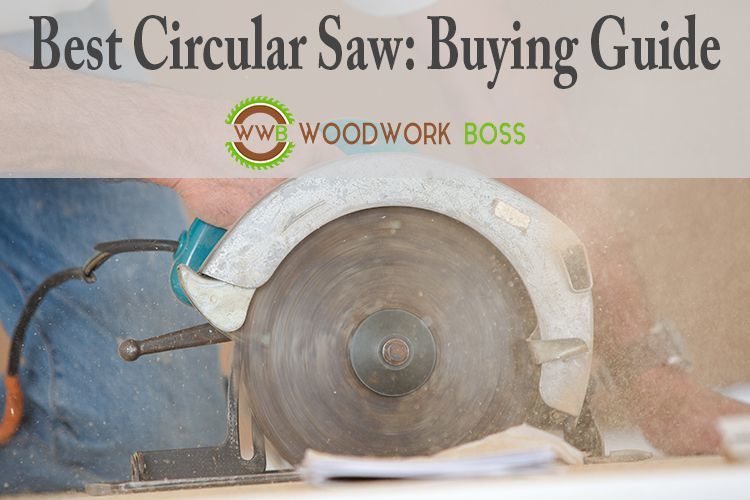 Circular Saw Reviews: Best Corded, Skill and Others
Last updated: August 2018
For professionals, hobbyists, and homeowners, a circular saw is one of the most useful tools to have in your box.
There's several different types, each designed with different users in mind – trying to choose the best circular saw for you can be quite challenging.
But it's your lucky day – because in your search, you've found this article…
We cover everything you'll need to make the right choice – Firstly a comprehensive buying guide to help you understand the different types and features, and then specific product recommendations.
After reading, you're guaranteed to be satisfied with your choice of circular saw!
[table id=4 responsive=scroll /]
Different types to choose from
Unlike many power tools out there, circular saws are pretty simple and there's only three main types that you need to know about.
These are sidewinders, worm drive saws, and hypoid saws.
Sidewinders
Sidewinders are probably what you imagine when you think of a circular saw – they're also called simply a standard circular saw.
These are by far the most common type of circular saw that you'll come across.
It's called a sidewinder because of motor positioning – it's mounted on the side of the saw, as you might have guessed.
This makes the saw very compact, although having the motor mounted to the side of the blade also makes power transfer to the blade less efficient. Which basically means a sidewinder isn't as powerful or capable as a worm drive or hypoid saw.
Usually, the blade on a sidewinder is mounted on the right (whereas worm drive and hypoid blades are usually mounted on the left).
They're get for professionals and hobbyists alike – But professionals who are constantly tackling different materials and different types of cuts might want to consider the more capable worm drive saw.
Worm drive saws
These are a step up from sidewinders, and generally aimed at professionals or very serious hobbyists or homeowners.
The term "worm drive" refers to the position of the motor – which on these saws, is directly behind the blade.
You'll see that these saws are much less compact than sidewinders because of this motor position.
However, the upside is that this design makes for more efficient transfer of power from motor to blade. The result is that worm drive saws produce more torque than standard circular saws.
One last thing to note about worm drive saws is that they require some maintenance, and oil should be added now and then.
Hypoid drive saws
These appear and function very similarly to a worm drive version, although they use a different transmission and gearbox design.
The design has some of the same benefits as a worm drive saw – it's more efficient and powerful than a sidewinder, while also being less noisy.
Again, these are mostly aimed at professionals.
They're desirable for the same reasons as a worm drive (as compared to standard) – but, they're generally better.
The transmission and gearbox design require less maintenance, which is a huge plus for any heavy user. Unlike worm drive versions, these use a sealed motor system, which means you don't need to add oil (as you would with a worm drive).
Also, both worm drive and hypoid saws tend to have the blade mounted on the left.
Other types
Also available are cordless circular saws, and mini circular saws.
The names of each make their design pretty obvious – cordless, and mini.
Cordless saws add a ton of convenience and flexibility, as you don't need to manage that pesky cord during every cut. Also, you're not limited to only making cuts within a certain range of a power outlet.
The downside of cordless circular saws is that they're generally more expensive. And, of course, the batteries run out of power and need to be recharged regularly.
Mini circular saws are designed for convenience in tackling small jobs, or jobs in tight spaces.
They can be very useful, although aren't suitable for large cutting jobs.
Uses for a circular saw
These tools can be used for many applications, but before considering them too much you should really learn how to use a circular saw.
Something to keep in mind is the cutting depth – obviously, if what you need to cut is deeper than the max cutting depth of your saw, then it probably won't be suitable for the job.
Most sidewinders come with a 7-¼ inch blade, and all of these will be great for standard cuts of 2x4s, plywood, and other standard pieces of stock.
Worm drive and hypoid saws produce more torque, which makes them much better for cutting through dense woods and other materials.
One of the reasons professionals love worm drive and hypoid saws is that they can tackle a range of different materials. Beyond wood they can often tackle brick, concrete, and a range of other materials. This is especially true if they're combined with a specialized blade.
You'll generally have a cutting depth adjustment lever on any of these circular saws, and most also have a tilting base to allow for beveled cuts.
Overall, circular versions are a good mixture of functionality and portability. They're great for both professionals and hobbyists or homeowners, and can help you tackle a range of cuts around the house or on the jobsite.
Important features to consider
Regardless of which type you're interested in, there's a general set of important features which you should understand and consider before making your choice.
In this section, we'll cover the following features:
The basics
Power sources
Cutting features
Blades
The basics
Compared to other powered saws, circular versions are really quite basic and easy to understand.
In terms of basic circular saw features, all types generally have a blade guard, foot plate or shoe, cutting depth adjustments, and bevel adjustments.
Blade guard
Safety is crucially important when using a circular saw (more on that soon), and so it follows that the blade guard may be the most important feature on the whole saw.
It's certainly the most important safety feature, at the very least.
As the name suggests, this is a physical guard that covers the blade. It's so important because it's literally the barrier between the deadly dangerous spinning blade and everything else.
Almost every circular saw has one of these.
There's a little gap at the front side of the guard, so there's room to start a cut. As the cut is started and you push the saw into it, the blade guard retracts to allow the blade to do its job of cutting.
Foot plate
This is the base of the saw, and it rests against the material you're cutting.
That's all there is to say about it, really. The base is also used to help with adjusting the cutting depth and bevel angle.
Cutting depth adjustments
There's usually a gauge on the base of the saw which shows the current depth setting.
You'll generally find a level which can be unlocked to allow the blade to move up and down (in relation to the base) – after setting the right depth, you re-lock the height in place and you're good to go.
Bevel adjustments
Similarly to the cutting depth, the bevel angle is adjusted with a lever which locks in place.
So again, it's pretty simple – unlock lever, adjust the blade to the correct angle (using the gauge on saw), then re-lock in place before starting your cut.
The angle is set in relation to the base plate, same as with the cutting depth.
For most, the base plate tilts to allow for these bevel angles.
Some saws don't have the ability to bevel, but most do. You'll mostly run into non-bevel versions with minis.
Power sources
As we discussed briefly earlier in this article, there's both corded and cordless circular saws.
You'll generally only find cordless sidewinders, but not worm drives or hypoids.
The benefits of having a cordless circular saw are pretty plain to see – the added convenience of not having to manage a cord while making your cut, and also the larger benefit of not needing a nearby power outlet to use your tool.
The big downside is that cordless saws of course use batteries – and batteries die.
In fact, most batteries for these saws will die very frequently. You'd be best to have two or more batteries so that you can charge one while using the other.
Another thing to consider about cordless saws is that they're arguably safer than corded versions.
The cord is a safety hazard – it can snag on stuff while you're making a cut, or it might even get in the way of your cut and get severed by the blade (this is incredibly common).
So although there definite tradeoffs of choosing a cordless version, the upsides of increased flexibility and safety are very attractive, making even the best corded circular saw shine a bit less.
More features
Power
The very first thing you'll want to think about with a circular saw is the power output.
As mentioned, worm drive and hypoid saws put out more torque which is better for dealing with denser or tougher materials.
For sidewinders, you'll generally see that they have 15 amp motors, and put out around 5800 RPM.
It's best to consider what you'll be needing your saw for, and then ensure what you're considering has enough power output for your needs.
Cutting capacity
Along similar lines, you also want to check the cutting capacity of the product.
This mostly comes down to the blade size – and the most common size is 7-¼ inches for circular saws. Mini versions will of course be smaller, and you can also find 10 inch ones too.
Most of these 7-¼ inch saws can cut through 2 inch lumber at either 90 or 45 degrees in a single pass – so they're quite capable and useful for a variety of cutting tasks.
Electric brakes
These won't come on cheaper products, but they're a great safety feature if you're willing to pay for a saw that has one.
Basically, electric brake automatically engages and slows the blade down after you release the trigger.
This is great because without a brake, the blade can keep spinning for quite a long time – and of course, during this time it's just as dangerous as when it's fully powered on.
Dust ports
Many saws have a port to connect a shop vac or dust bag to suck up dust as you're making a cut.
However, these are notoriously useless.
Circular saw dust collection accessories are so ineffective that to be honest you're better off just not bothering to use one.. They're a hassle and can impede your cutting, and you're going to end up cleaning up a ton of dust after finishing anyway.
LEDs and laser guides
Some models have LED lights to illuminate your cutting line, which can come in very handy.
The laser guide can also be a great feature. A circular saw is all manually controlled by the user, and unless you're using a guide it can sometimes be challenging to hold your cutting line.
A laser guide can help a lot with this, as it's just an extra reference point to help keep your cut on track.
Circular saw blades
We have an entire article dedicated to helping you choose the best circular saw blade – and, you'll find this topic covered in much more depth in that article.
What you need to know is that there's several different types of blades, which have specific designs for different uses.
There's standard steel blades, and then also high-speed blades and carbide-tipped blades (which are more expensive, but last longer).
There's crosscutting and rip cutting blades (which are each designed to be good at crosscutting or rip cutting, obviously).
There's also tile cutting blades, masonry blades, and abrasive blades.
All of these have different designs.. Differing numbers and shapes of teeth, different materials, and so on.
Again, you'll find it covered more in-depth in our other article.
Finally there's general use blades – for cutting wood, a general use blade will do a pretty good job of making both crosscuts and rip cuts.
An important thing to note is that most circular saws will come with a stock blade – that is, a cheap blade that's nowhere near as good as an after market blade.
It's strongly recommended to buy a good blade to go with your tool – They're generally not too expensive, and even a great circular saw can be held back by a sub-par blade.
You might also want to learn how to change a circular saw blade.
Safety considerations
Like any other power tool, circular saws are very dangerous…
Severe damage, injuries, or death are all very possible consequences of making a mistake when using a powered saw. And so it's crucial that you understand some basic safety guidelines before using one.
We have a whole article dedicated to circular saw safety that I encourage you to read if you're unfamiliar with these tools.
Our safety article covers:
Safety gear
Safety features
Simple 3 step process for making safe cuts
It's better to spend 3 minutes covering some safety precautions than to spend the rest of your life with some missing fingers!
Our Top Picks
[table id=4 responsive=scroll /]
The simply superb DCS575B from Dewalt comes out on the top of our list – Not only is it a fantastic circular saw, but it's also cordless.
Cordless circular saws have many advantages over corded, but they often have significant drawbacks. The DCS575B is a new generation of cordless saw though, and we feel it deserves the top spot.
In second you'll find the Makita 5007MG – Another fantastic choice, if you prefer a corded one. Also being corded, it's much cheaper than the Dewalt in our top spot.
Beyond that you'll find our mid-tier choices, the Bosch and Hitachi.
And finally in the number 5 spot of our list is the budget option – the Skil 5280-01, a no-frills and budget friendly circular saw which still gets the job done.
Circular Saw Reviews
Dewalt DCS575B Flexvolt
[amazon fields="B01H9BLSW6″ value="thumb" image_size="large" image="1″ tracking_id="woodworkboss-20″ image_class="ais450″]
The tagline for this saw is "Power of corded, freedom of cordless" – and you'll see in our Dewalt DCS575b review that they really do live up to this promise.
This model was only released in mid 2016… So as saws go, this is a very new model.
And being so new, it also features the latest technology straight out of the master labs at Dewalt, and boy oh boy is it impressive.
This is a cordless circular saw, as mentioned above. There's usually two issues when it comes to cordless options: Lack of power (compared to corded), and short battery life.
The reason the Dewalt is top of our list is because it has overcome both of these issues.
A powerful 5,800 RPM motor puts out enough "oomph" to be comparable with just about any corded sidewinder versions.
On top of that, the Flexvolt battery technology from Dewalt is a game changer. The batteries have a fancy feature of automatically changing voltage to match whichever tool you're using them with – but also, the battery holds charge for much longer than your typical models.
This is a totally different beast, as compared to others.
But the Dewalt has yet more to offer…
The Dewalt DCS575B runs a brushless motor, which makes for a longer lifetime and overall less maintenance. This is not something you'll find on cheaper saws, and it's great that Dewalt has included it here to really complete this package.
Also worth noting is the electric brake – a fantastic safety feature, and once again not something you'll commonly find on cheap circular saws.
There's a single downside to this saw: It's expensive. The saw itself is expensive, and the batteries cost extra.
We still think it's the best option available today – the combination of corded power in a cordless version is just too good to pass up. It might be expensive, but you'll see that investment paying you back every single time you fire this baby up.
There's also a solid bevel capacity, easy height adjustments, great durability, and everything else you'd expect from a Dewalt. They're a famed manufacturer, and the build quality is brilliant, as usual.
For professionals and hobbyists or homeowners alike, the Dewalt DCS575B is a fantastic choice – Truly, this offers the power of a corded saw combined with the freedom of cordless.
Click here to read user reviews on Amazon.
Makita 5007MG
[amazon fields="B000N5SVEY" value="thumb" image_size="large" image="1″ tracking_id="woodworkboss-20″ image_class="ais450″]
The Makita 5007MG is our runner up, and in terms of functionality it's very similar to the Dewalt mentioned above.
Of course, that's aside from the fact that this is actually a corded version. The Dewalt is our top choice overall, but this Makita is our pick for best corded circular saw.
With a 7-¼ inch blade and a motor producing 5,800 RPM, it's very similar to the DCS575B.
Makita as a manufacturer are also ranked right up there alongside Dewalt for their amazing power tools and generally great build quality.
If you're not a fan of cordless saws for some reason, or you don't like Dewalt, then this Makita 5007MG is a great choice instead.
It also has some other bells and whistles that you won't find on other circular saws – an electric brake, and LED lights that illuminate your cutting line.
On top of that, it also ticks all the other boxes that you'd expect from a quality circular saw.
Levers for height and bevel adjustments are large and easy to use, and lock in place securely. There's also large rubberized handles which make the 5007MG easy to use and control, and the whole saw weighs in at just 10.6 lbs.
Being corded you also won't ever need to worry about a battery running out of charge, unlike with our top option. Even though the Dewalt above has some great battery technology… eventually, the battery does need to be recharged.
There's another big advantage that the Makita 5007MG has over the Dewalt – it's usually much cheaper.
Sure, you don't get the benefits of a cordless… but if you don't need those, then the Makita will serve you well.
It's a top of the range product – far superior to the mid-ranged circular saws we have listed in places 3 and 4 on our list.
This is durable and capable enough for the jobsite, and also a great option for hobbyists and homeowners.
A fantastic choice from a world-renowned manufacturer.
Click here to read user reviews on Amazon.
Hitachi C7ST
[amazon fields="B007QESNMU" value="thumb" image_size="large" image="1″ tracking_id="woodworkboss-20″ image_class="ais450″]
As you'll see in our Hitachi C7ST review, this is a very capable circular saw which comes in at a reasonable price point.
This is exactly why it was chosen as the first of our mid-tier options – It has just what's needed from a mid-tier product with a good mix of functionality and reasonable pricing.
Like the other options on our list, the Hitachi is a 7-¼ inch sidewinder circular saw.
You might be surprised to hear that it actually produces a higher RPM than the Dewalt and Makita saws mentioned above, running at 6,000 RPM (as compared to the 5,800 of the Dewalt and Makita).
For everything else about this saw, you can pretty much assume that it'll be a slightly lesser version of the Makita 5007MG.
It's a corded saw of course, and comes with the usual array of features: ergonomic handles, big levers for cutting depth and bevel adjustments, and so on.
But the fact is, the Hitachi C7ST is cheaper than the Makita and also comes from a manufacturer that generally can't compete with the build quality of Dewalt and Makita.
That's not to say that the Hitachi is bad – far from it.
It's just that the Dewalt and Makita options are truly excellent, and the Hitachi comes in below them.
The durability won't be as good, the handles will feel a bit cheaper and more "plasticy", and in general you'll feel that the build quality is lesser than the number 1 and 2 choices.
But that's all fine… the Hitachi C7ST was never designed to compete with the big boys.
It was designed to offer bare bones functionality for a great price, and in that regard it delivers spectacularly.
The price is usually significantly less than the Makita above – and that's why you get some tradeoffs in terms of quality.
The C7ST probably isn't a great choice for professionals – It just doesn't have the durability and build quality that a professional would usually demand.
But for homeowners, hobbyists, and infrequent or light users of circular saws, the Hitachi C7ST is a great choice.
There's also another big plus here – a 5 year warrant from Hitachi. That goes a long way to inspire confidence in this saw.
This is a wonderful package for a great price, and is one of our favourite saws on the list.
There's really nothing bad to say about it. Don't expect it to be as refined as the Dewalt or Makita… but, expect it to work hard and serve you faithfully, backed by that amazing 5 year warranty.
Does exactly what it says on the tin!
Click here to read user reviews on Amazon.
Bosch CS10
[amazon fields="B0001X21PS" value="thumb" image_size="large" image="1″ tracking_id="woodworkboss-20″ image_class="ais450″]
This Bosch is the second of our mid-tier options and is comparable in features and price to the Hitachi listed above.
This probably would have snagged the 3rd spot ahead of the Hitachi, but as you'll see in our Bosch CS10 review it has a handful of flaws which drag it down.
It's a 7-¼ inch version, and comes with the standard features of cutting depth and bevel adjustments, blade guard, and easy-to-grip handles.
However, in terms of power the Bosch is a bit lacking – coming in at just 5,600 RPM compared to 6,000 in the Hitachi and 5,800 in the Dewalt and Makita.
That's not a huge deal, it still has plenty of power to deal with most basic woodworking cuts on standard pieces of stock, but it's worth noting.
You won't get any fancy features with the Bosch – No laser guides, LEDs, brushless motor, electric brake, or any of that stuff you'd find on the Dewalt and Makita.
But, that's not really to be expect from the Bosch CS10 anyway – this is, after all, a mid-tier circular saw.
And with it's mid-tier price to match, it would be really unreasonable to think it would include these nice extra features. For those, you've got to go for one of the top tier circular saws.
Again, these are just the trade-offs of spending less money on a saw. And there's nothing wrong with that… If you don't need those extra features, then why pay for them?
The Bosch CS10, like the Hitachi, is a great choice for light users who need a reliable tool that'll just get the job done and not cause you any hassle.
There's one major issue with the CS10 that comes up time and time again in user reviews – and it's to do with the blade guard.
It tends to snag when you're making cuts. Blade guards should normally retract smoothly as you push a saw into a cut, and it can be extremely annoying to have this one get stuck.
This is the only thing that drags the CS10 down, and aside from this it's yet another great tool from Bosch.
If you're considering a mid-tier option, we simply have to recommend the Hitachi over this Bosch CS10.
The Hitachi is simply better for 2 main reasons – firstly, there's no significant recurring complaints from users in their reviews (as there is regarding the Bosch blade guard). And secondly, the Hitachi is usually cheaper.
But if you prefer Bosch, or the Hitachi isn't available for some reason, then the CS10 will be a great choice – just watch out for that annoying blade guard.
Click here to read user reviews on Amazon.
Skil 5280-01
[amazon fields="B01BD81BLO" value="thumb" image_size="large" image="1″ tracking_id="woodworkboss-20″ image_class="ais450″]
And finally on our list, we come to the budget option – the Skil 5280-01.
When it comes to a budget circular saw, you can assume that it's just a little bit worse than the mid tier options in most ways.
Normally the budget option will feature lower quality materials, and the build quality in general will be lesser.
As a result they won't be as durable, are likely to have a shorter lifespan, and might have other issues that crop up.
I'm glad to say that although the Skil 5280-01 is our budget option, it is actually a great budget circular saw.
Of course, it's cheaper than all our other options – that probably goes without saying though.
On top of that it's super light, weighing in at just 9.5 lbs. If you're using the saw frequently, you'll really notice this difference as every bit of weight shedding can help with your own endurance.
You might also be surprised to learn that there's quite a few extra features on this saw, that you don't even get on the above mid-tier options.
There's a laser guide to help keep you accurate, a shaft lock to make changing blades easier, and even a blower mounted on the front which blows away dust as you cut to keep your cutting line clearly visible.
This probably isn't a great choice for a professional – but for hobbyists or homeowners, it's a great budget choice.
As well as having these lovely extra features, it also just works as it should. It's capable of tackling most cuts on standard pieces of lumber, the bevel and height adjustments are easy and secure, and the ergonomic handles make for easy and accurate use.
There's even a simple carrying bag for convenient portability and storage.
With all of this for such a low price, it's hard to go wrong with the Skil 5280-01.
Click here to read user reviews on Amazon.
Also consider: Ryobi
[amazon fields="B00F9LEJDY" value="thumb" image_size="large" image="1″ tracking_id="woodworkboss-20″ image_class="ais450″]
There are so many circular saws our there, we simply can't cover them all!
Ryobi is a very well known manufacturer that's clearly absent from our list above – But, they're well worth your consideration in choosing a circular saw.
With a combination of quality and value for money, Ryobi circular saws are a great choice for homeowners and hobbyists alike!
Best Cordless Circular Saw: Dewalt DCS575B Flexvolt
[amazon fields="B01H9BLSW6″ value="thumb" image_size="large" image="1″ tracking_id="woodworkboss-20″ image_class="ais450″]
Now that we've covered the best overall options, we're going to move onto a few other sub-categories and make further product recommendations.
The first of these are cordless circular saws – and, we actually have an entire article dedicated to helping you choose the best cordless circular saw.
Needless to say, our top choice is the Dewalt DCS575B.
We also chose this for best overall, so of course that also means it's the best cordless circular saw too.
You can check out what we wrote about it earlier in this article, or checkout the full cordless circular saw article for full details on this saw and also 4 other top picks.
What really sets the Dewalt apart from other circular saws is the battery – it lasts longer than most without needing to be recharged, and it also helps the DCS575B to produce more power than most other cordless saws.
It really is head and shoulders above the other cordless options on the market.
It's also a lot more expensive…
In our best cordless circular saw article, you'll find recommendations for both mid-tier and budget cordless saws.
Our mid-tier recommendations are the Milwaukee 2630-20 and the Makita XSS02Z – These are both cheaper than the Dewalt.
They're also both great saws, but the batteries just aren't as good as the Dewalt. Basically, you'll want to have a few batteries on hand so that you can be charging some while using another.
But for the cost savings, either of these are a great deal!
Best Mini Circular Saw: Makita SH02R1
[amazon fields="B019WA7146″ value="thumb" image_size="large" image="1″ tracking_id="woodworkboss-20″ image_class="ais450″]
Aaah, the mini circular saw – a more recent addition to this family of saws.
These definitely aren't aimed at professionals, but at hobbyists and homeowners who are tackling lightweight work.
For these simple uses, a mini circular saw is a great tool. They also have the benefit of being much lighter and more compact than full size standard circular saws.
For many people, a full size version would be total overkill – and this is the market that the mini's aim to serve.
Once again, we have an entire article to help you choose the best mini circular saw which gives a detailed breakdown of what to consider before buying, and also makes several specific product recommendations.
There are actually a bunch of great options for these small ones – but, our top pick is the Makita SH02R1.
It weighs just 3.5 lbs, and it's cordless. The Makita has great power output and also offers a lot of functionality with impressive cutting depth and bevel ranges.
This one even comes with two batteries, which is a very nice change from many other manufacturers that sell the batteries separately.
It's a powerful, compact, and easy to use – perfect for a range of small jobs and a wonderful choice if a full size one brings more "oomph" than you need to get the job done.
In our dedicated article about the best mini circular saw, you'll also find recommendations for mid-tier and budget mini circular saws.
Best Worm Drive Saw: Makita 5377MG
[amazon fields="B000N5UR5A" value="thumb" image_size="large" image="1″ tracking_id="woodworkboss-20″ image_class="ais450″]
Just like a mini version is aimed at hobbyists, a worm drive saw is aimed squarely at professionals – although serious hobbyists and homeowners who need to tackle a wide range of difficult tasks will also find it attractive.
In our best worm drive saw article, you'll see that the Makita 5377MG claims our top spot. You can also check out our Skilsaw SPT77WML-0 review to learn about this close runner up.
Worm drive saws are generally more powerful, more durable, more expensive, and heavier than standard circular saws.
They produce more torque thanks to the motor position, which makes them much better suited to dealing with dense and tough materials.
Combined with a specialized blade, the Makita 5377MG can tackle wood, brick, concrete, and pretty much anything else you can throw at it.
It's designed to be very durable too, as it's expected to be moved from jobsite to jobsite almost daily and to withstand the bumps and dings that come along with such a life.
The motors are also designed to require less maintenance than a standard circular saw, which of course is very desirable for a professional or otherwise heavy user.
Conclusion
Whether you're a professional, hobbyist, homeowner, or anyone else – there's a circular saw out there to meet your needs.
Most people will probably find more than enough functionality for their needs in some form of standard circular saw – and so our main "best overall" list should have plenty of options to choose from.
If you have more specific needs, perhaps consider a cordless, mini, or worm drive version.
We've covered everything you need to firstly understand what type of product you need, and then to choose the specific one that's best for your needs.
After using this article to make your buying decision, you should be perfectly satisfied with your new circular saw!