21 Affordable DIY TV Stand Ideas You Can Build In a Weekend
21 Affordable DIY TV Stand Ideas You Can Build In a Weekend
Who are we kidding – no one can watch Netflix calmly when there's nowhere to put the TV! And that's exactly why there is a little invention called TV stand.
You might be thinking: "I already spent $500 on a TV and now I must buy some furniture too?!" Don't sweat – there are plenty of awesome and affordable DIY TV stand ideas that will blow your mind. Not only are they friendly for your wallet, you can make one for your TV literally in one weekend.
If you want access to over 16,000 woodworking projects that give step by step instructions check out Tedswoodworking, the number 1 resource for woodworkers.
Without further ado, here are 21 awesome TV stand ideas that you can build today – most of these are relatively small wood projects, so completing one in a few hours is no problem!
1. DIY Pallet TV Stand
Project credit: preparingforpeanut.com
If you already have a pallet somewhere waiting for its use, then this project will cost you $0 in materials. Pallets are sturdy, plus you can use the space cleverly thanks to the pallet "shelves". This way you won't have to worry about your consoles getting in the way!
2. Pallet TV Stand vol 2
Project credit: cahillscreative.com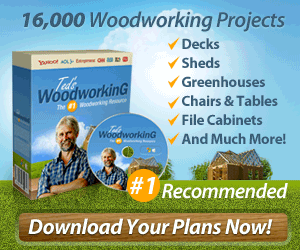 This project shows a bit different side of using pallets for your TV stand. Just break up the pallets and follow the project instructions – they are greatly detailed!
3. DIY Corner Media Center
Project credit: rogueengineer.com
Have an empty corner and nothing to put there? How about building a corner TV stand! Rogue Engineer shows how to build this amazing TV stand with just 6 simple steps. The result is truly mesmerizing!
4. DIY X-Leg TV Stand
Project credit: homemadebycarmona.com
If your home is in modern farmhouse style, then this TV stand will fit your decor perfectly. The white color and X-legs are true showstoppers while the big storage space lets you keep your DVDs and other items nicely away from sight.
5. TV Display Easel
Project credit: remodelista.com
TV stands can be pretty bulky, but what if you are looking for something minimalistic? This style is perfect. Besides the cool design, the finished stand has wheels, which means you can move it around anytime!
6. DIY TV Console
Project credit: lizmarieblog.com
Don't you think this TV console looks like from a decor magazine? Contrary to fancy new TV stands, this one costs just a bit under $100 and that includes even the hardware. If you are looking for something rustic and spacious, head over to Liz Marie Blog to learn how to build one of these yourself.
7. Dresser Into a TV Stand
Project credit: twotwentyone.net
This project stands out among the others with one fact: it's not really a project for building a TV stand from scratch, but a tutorial on how to use your old dresser and refurbish it into a cool TV stand. And on first sight, I bet you wouldn't even know this was a dresser. What a great way to reuse your old and tired furniture!
8. Reclaimed Wood & Black Pipe TV Stand 
When the previous project featured refurbishing furniture, then this one uses reclaimed wood. Clever materials always make for the coolest projects! Besides reclaimed lumber, you can also use some black pipes to create a sturdy yet modern TV stand. This one will look gorgeous when combined with other rustic decor elements!
9. DIY Crate TV Stand
Project credit: cashmereandplaid.com
Here's one project that will surprise you. Don't throw away your crates! Instead, turn them into a cool and functional TV stand. You literally won't need anything else besides some crates, screws and a drill. Perfect project for new DIY-ers!
10. Pallet Media Console and TV Stand
Project credit: 99pallets.com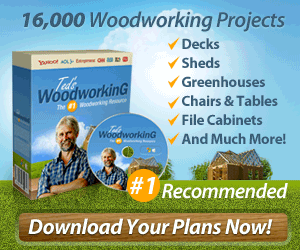 We just can't get enough of cool pallet projects. This tutorial uses 8 pallets cleverly, combining them into one convenient media console. You can easily store all your games, movies and DVD players there, without them getting in your way.
11. DIY Floating TV Stand
Project credit: nextluxury.com
This TV stand looks like it defies all rules of gravity, yet it stands sturdily. The tutorial shows how to build not the compartment itself, but the floating wall where the TV is attached. As you see, the wall can support even your speakers, so it's one extremely clever way to use empty wall space.
12. Spacious TV Stand
Project credit: ninered.blogspot.mk
Looking for a TV stand that could divide your room as a room divider would? This project is built with that exact thought in mind. That's why this stand features a nice "wall" behind it. If you have even just a bench, this idea might inspire you to refurbish it into a cool TV stand.
13. DIY Easel TV Stand
Project credit: houseandhome.com
Easel TV stands are cool, aren't they? Similarly to one previous entry in our list, this one also includes wheels, so you can comfortably move the stand around your home. You do need a ready-made easel, but the project will definitely inspire you to refurbish one into a new TV stand.
14. DIY Media Wall
Project credit: diyandcraftsideas.com
Not many TV stands extend to the whole wall, so this one is special. Just use some leftover wooden planks (we all have some planks laying somewhere) and craft the extra compartments according to your wish – feel free to use your whole wall and build one massive media wall that could become your new entertainment center.
15. Farmhouse Style TV Stand
Project credit: remodelaholic.com
This TV stand is as sturdy as they come! The real eye-catcher here is the sideboard. You can stain it another color, so it would pop out really well and would create a lovely contrast with the rest of the stand.
16. Curved Pallet TV Stand
Project credit: palletideas.info
TV stands don't always have to be rectangular, do they? This one proves that you can use old pallets in very unique ways. Even more, pallet furniture can look luxurious – exactly like this TV stand.
17. DIY Pottery Barn TV Stand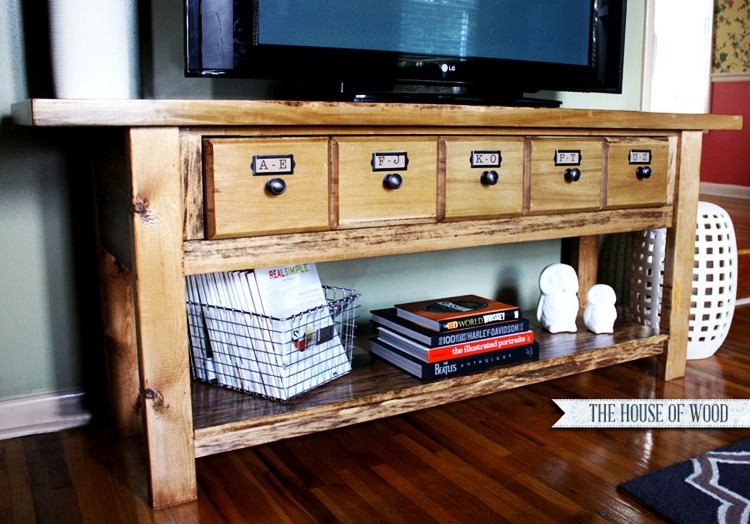 Project credit: jenwoodhouse.com
"If I'd have million dollars, I'd buy the whole Pottery Barn selection…" Sounds like you? Jen from The House of Wood comes to rescue with this Pottery Barn-inspired TV stand that features the cutest apothecary-style drawers. The Pottery Barn one costs a little above $1000, whereas Jen's TV stand cost under $300! Even with discounts, DIY version is way friendlier for your wallet + you can be proud of your handiwork.
18. Industrial Console Table
Project credit: refreshrestyle.com
The name of this one really justifies itself since it can be used for a table as well as under your wall-mounted TV. And things get even better thanks to wheels! Compact, stylish and simply convenient – what else could you desire?
19. Rustic Corner TV Stand
Project credit: mimiberrycreations.com
Furniture that fits in the corners is the coolest, but not the easiest. Mimi's extremely detail-rich tutorial comes to the rescue as she teaches step-by-step how to build this magnificent rustic TV stand.
20. DIY Apothecary Console
Project credit: ashleygrenon.com
This one is actually built according to Ana White's plans, but we love the way it turned out at Ashley's blog. The combination of white and brown looks modern and cozy, fitting well to any living room.
21. DIY Luxurious TV Stand
Project credit: dowelmax.com
Believe it or not, this absolutely breathtaking cherry wood TV stand is DIY! It supports 46″ LCD flat screen TV, has glass panel doors and even small drawers that all look like it has been built by a real professional. You definitely need some more skill for building this one but for an experienced woodworker, this will be a piece of cake.
Summary
Article Name
21 Affordable DIY TV Stand Ideas You Can Build In a Weekend
Description
Looking for a cool and affordable DIY tv stand? Look no further - take your pick from these 21 super cool TV stand ideas!
Author
Publisher Name
Publisher Logo