Choosing The Best Bench Plans 2018
No garden is complete without beautiful complimentary benches. However, finding decent bench plans can be a struggle, especially if you are looking to build something high-quality not just a plank-on-plank. That's why we are here!
Building a bench is an exciting challenge for any woodworker, no matter the skill level. There is a wide array of designs to choose from: some benches are higher, some are smaller, some are wider, some are quirky. As the design scale is varied, so is the skill set needed. Some bench plans may require a bit more skillfulhand, some can be built with using just a saw and some wood screws.
To help you decorate your home and garden, we have compiled the absolute best bench plans. From X-leg style to 2×4 and outdoor benches, we have every style you could need. I bet you'll find what you are looking for and then some so you'll have plenty of inspiration to cover your woodworking ventures.
Best Free Outdoor Bench Plans
Dreaming of having a grill party with your friends but lack the space when it comes to your garden's seating area? No worries – we have gathered the best outdoor bench plans that enable you to build something neat for your garden.
These plans are rather different when it comes to their style and crafting approach, also they range from easy to advanced but they all have one thing in common: it is affordable to build all of these benches. There's no way you could buy a beautiful outdoor bench for a $100 but it is possible to craft something yourself with less than $100.
Keep in mind that cedar is the best material for outdoor furniture thanks to its' extreme durability in harsh weather conditions. Even so, all furniture pieces that go outdoors should be finished with nice outdoor varnish and other finishing products that guarantee your new wooden craftwork will maintain its' loyal beauty for years to come.
Top 3 Free Outdoor Bench Plans
Here are the best outdoor bench plans for you to check out and get inspired by. Guess what – all of these plans are completely FREE as well!
These outdoor bench plans display an array of designs you could choose from. From something quirky and recycled to good old farmhouse style, there is a suitable bench for everyone. Even better is the fact all plans are accompanied by step-by-step instructions, making it a lot easier to build the perfect outdoor bench.
Check out these outdoor bench plans in-depth to decide easily which plan to tackle the first.
#1 – Bench From Dining Chairs
This bench showcases an idea of how to build an outdoor bench from dining chairs so it's not only a nice way to enhance your carpentry skills, it's a great affordable way to recycle furniture. The end result is cool and unique thanks to the chair backs.
Building a bench like this can cost around $65 and you don't need any carpentry skills: you just need to know how to make some simple cuts and it shouldn't take more than a couple of hours to finish this project. Affordable, simple and unique – it's the perfect combo!
Get the free plan HERE and craft this cool bench!
#2 – Box Crib-Style Outdoor Bench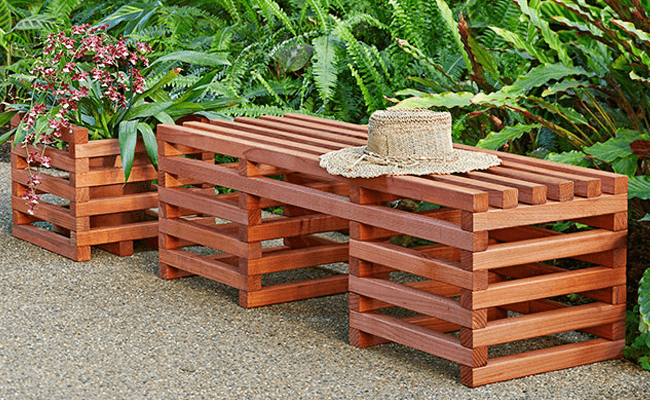 This box-crib style bench is relatively easy to build thanks to nice professional project diagram and step-by-step instructions. More so, you won't get a plan for building just the bench but the planter as well. It's a must-have for every garden!
Though it is not a complex task to build this bench, the amount of details that need to be assembled is quite extensive so it wouldn't hurt to have a bit more woodworking skills before starting with this plan. It's a nice challenge though, so if you have a miter saw and you are eager to build a cool bench, go ahead and get the plan!
Build this stylish bench with the help of THIS plan.
#3 – Sawhorse Outdoor Bench
These outdoor benches are the most classic type you can find and are the reason why your guests will say: "wow, where did you get this bench set?!". Building this beautiful set is a task for a bit more advanced woodworkers who are already used to following plans and assembling different details, so it should be taken in account it might not be the best choice for a woodworking newbier.
The plan is accompanied by step-by-step diagrams that instruct every step of the process so you could easily build the benches within a weekend. The result is divine and worth the efforts!
What are you waiting for? Get the plan from HERE.
Best Free 2×4 Bench Plans
If you are looking to build a nice bench for your backyard, then building a bench of 2x4s is the best way. Most 2×4 bench plans are also relatively easy to follow and what's even better, a bench of 2x4s is the most affordable option. It can actually cost around $20-50 to craft a nice bench!
To craft the perfect bench you should keep in mind that accuracy is the key. Therefore, measure 9 times before cutting anything, use waterproof wood glue and round exposed edges with sandpaper or by using a nice router. Then you can be sure you'll have a sturdy bench that will last a lifetime!
Top 3 Free 2×4 Bench Plans
Take a look at these 3 free 2×4 bench plans that guide you through the process of building a sturdy, nice garden bench:
These 3 plans showcase different approaches you can take when building a bench of 2x4s. However, building all of these plans is affordable thanks to the materials: 8-10 2x4s is enough to build a nice looking bench! All plans are made so you could easily modify the size and make some smaller and bigger benches without much hassle.
After finishing the construction, don't forget to use wood finish to ensure the benches lasting a long time in your garden. You wouldn't want your craftwork to get wasted now would you?
If you are not completely sure yet which of these 2×4 bench plans is the way to go, take a closer look at all 3: 
#1 – 2×4 Stylish Bench
What sets this bench plan apart from others is the design. It has a sturdy back and arm rest so it would be especially comfortable to chill on this bench. Though design-wise you could imagine it's not the easiest bench to build, it's actually the most simple one as it takes just some basic woodworking skills to craft the bench.
You can find step-by-step 3D measurement diagrams that get you through the crafting process. Even more, you can find an instructive video to help you out. One weekend and you'll have an amazing bench!
Build this amazingly easy 2×4 bench with the help of THIS bench plan.
#2 – 2×4 Bench and Side Table
Similarly to the previous plan, this one is also instructed with the help of 3D drawings that illustrate every step of the process. The cutting and assembling diagrams are extremely detailed so it shouldn't be a trouble to follow the plan successfully.
What makes this one different from the others is the fact it is actually a plan for not only a bench but small side tables too. There is an instructive video for the plan as well but the side tables are not included there as it is very easy to build the tiny side tables. One thing is for sure: the set is practical and good looking at the same time!
Go and grab the free guidelines for building the bench & tables from HERE.
#3 – Providence Bench
The most classic bench style, the Providence bench, is actually easier to craft than you could have imagined. Even better, it can cost anywhere around $20-50 to build this! It doesn't get any more affordable than that!
Though not a very complex project, you definitely need some previous experience with woodworking and following different plans since a newbie might get easily lost – there are different diagrams for different steps, but you need some knowledge on how to read woodworking plans so you'd finish your project perfectly.
Don't wait any longer and get the plan for the Providence bench from HERE.
Best Free X-Leg Bench Plans
X-leg benches are easily the most widely known bench types thanks to their notable leg style which reminds the letter of 'x'. These benches usually don't have any back or arm rests and as you don't need much material to build one, they are also cheaper than other bench types.
Though x-leg benches are the easiest benches to build, there are some tiny tweaks that you could miss without decent x-leg bench plans. Therefore, we are helping you out by showcasing 3 of the best free x-leg bench plans. They are not all categorized as the easiest for their difficulty level but even the more advanced plans are not very complex so even if you don't have much woodworking experience, you can tackle these projects with a little effort.
Top 3 Free X-Leg Bench Plans
Check these awesome x-leg bench plans and build one yourself this weekend:
X-leg bench sounds easy and self-explanatory, yet there are so many different designs that you could try! From a more complex rustic style to an easy version that doesn't take more than a couple of hours to build, every woodworker can find a x-leg bench plan suitable for their budget and skill level.
If you are not sure yet which project to take on first, then dig deeper and check out all of these 3 plans more closely:
#1 – $20 X-Leg Bench
This bench will cost exactly as much as the title says – $20! As it's composed of only 3 2x6s and 2 2x4s you can imagine the price can't get any higher than that. Even better, it's a project that will take only a few hours to make. Basic woodworking skills, a miter saw and a drill and you'll be good to go!
The plan is accompanied by step-by-step photos of the process. Of course there are also cutting diagrams with measurements so it covers everything you need. It's the perfect option for those who don't want to spend much on a simple bench, but would like to make something stylish for their yard.
Get crafting – check out the guidelines for building this bench from HERE.
#2 – X-Brace Bench
Similarly to the previous x-leg bench, it's also a very affordable version and it showcases a similar design, with the difference being the level of detail. Though categorized as a project for a bit more advanced woodworker, it's also a rather simple project so it wouldn't hurt to give it a try!
Besides the 3D diagrams, there are photos illustrating every step on the way. The combination of measurement diagrams and real-life photos ensure there is no possibility to go wrong when building a bench with this bench plan.
Grab the instructions for the bench from HERE.
#3 – Rustic Pottery Barn Style Bench
Contrary to the previous x-leg bench plans, this plan showcases a whole different version of using the x-style leg: the x is on the backside instead of on the supporting legs. That adds an interesting touch as well as inspires to build something completely different! The result is stylish and rustic, suitable for any farmhouse and backyard.
This plan is the most complex of the bunch but the cost is still around $20! The difference lies in the joinery and small details that make it a bit tricky to nail the project. That's why there are detailed guidelines and diagrams – these ensure you can't go wrong!
Find the instructions for making this bench from HERE.