Best Miter Saw 2018: Compound & Sliding Compound Reviews
Last updated: December 2018
Choosing the best miter saw for you doesn't have to be hard…
In this article you'll find our top picks for every budget, in-depth reviews, and a full buying guide.
We'll make your life easier by helping you choose the best saw right now, in mere minutes.
After reading, I guarantee you'll make a great choice. Just imagine it… You'll be making clean and precise cuts with a big grin on your face in no time!
Our Top Picks
<— SWIPE —>
---
Best Sliding Compound Miter Saw: Dewalt DWS709
Dewalt DWS709 sliding compound mitersaw review
Powerful 15-amp, 3,800 rpm motor
Miters 60 degrees to the right and 50 degrees to the left for increased capacity
Adjustable stainless steel miter detent plate with 13 positive stops
Tall sliding fences and exclusive back fence
For full details about this saw, check out our
Dewalt DWS709 review
.
It's a powerful 12 inch saw with 15 amp, 3800 rpm motor and a unique sliding fence design, which also manages to be lightweight at just 51 lbs.
It's very precise, and also has several features to help accuracy – such as locking positions at common miter angles, easy-to-read miter and bevel gauges, and a very tall fence.
Combined with all this, it blows comparable sliding compound options out of the water with it's very affordable price. It's even a double bevel miter saw – With it being sliding, compound, and dual bevel, it really is as good as it gets in terms of these saws.
A well-built, powerful, accurate, and affordable option that will serve you wonderfully for years to come.
As with most Dewalt power tools, the DWS709 received top ratings and has been praised time and time again by users in their reviews.
Pros of this sliding saw
Friendly price
Very precise and has a few features to aid accuracy
Cons of this sliding saw
Dust collection isn't the best
It could run a bit more smoothly
Check price & read reviews at Amazon
The Dewalt DWS709 Is One Of The Top Miter Saws
The sliding compound miter saw is the mac daddy.
It works the same as a compound option – allowing to make beveled, mitered, or compound cuts. But, you also get the additional cutting capacity of a sliding arm that carries the blade further out over your material.
The sliding mechanism tackles the main drawback non-sliding miter saws, which is the shallow cutting capacity.
These are also the most expensive option – but, that's understandable because the extra functionality is very valuable.
Accuracy and power are the most important features in any miter saw – but especially in sliding compound options, as the extra sliding mechanism can sometimes lead to less stability, blade deflection, and overall worse accuracy then a fixed miter saw.
The Dewalt performs well in terms of both accuracy and power.
The 15 amp motor will tackle anything you throw at it. This is especially true, as always, when combined with a great blade.
The DWS709 also does a lot to help you out with accuracy. Not only is the DWS709 very stable and precise itself, but it works with you to help prevent human errors too.
There's a high sliding fence to help hold even tall crown molding steady while cutting. Combined with 13 positive locking miter angles, and an over-sized, easy-to-read bevel scale, this sliding compound miter saw makes it easy to be accurate with your cuts.
Another great thing about the Dewalt DWS709 compared to our runner ups, is the price.
The Makita LS1016L comes in second place. It's pretty similar, but with an only 10 inch blade, slightly lower build quality, and also a lot more expensive.Dewalt also make a similar model, the DWS780, which is another great sliding compound miter saw.
It's more capable than the DWS709 with a greater cutting capacity, but it's also way more expensive – and more expensive than the Makita, too.
For the combination of doing all the imporant things well plus a great price, the Dewalt DWS709 is our winner for the best sliding compound miter saw category.
The Makita is a close section in terms of features.. but, it's just too expensive as compared to the Dewalt.
You might want to consider the Dewalt DWS780 (the bigger brother of our winner), if you need a more capable option and don't mind paying a premium for it.
Check price & read reviews at Amazon
---
Best Compound: Dewalt DW715
DeWalt DW715 compound miter saw review
Powerful 15 amp motor delivers no-load speed of 4,000 rpm
Adjustable stainless steel miter detent plate with 11 positive stops
Tall, sliding fence for work with crown and base moldings
Four hardened steel bevel stops
Be sure to read our
Dewalt DW715 review
for full details on this great product from Dewalt.
Dewalt are very well known for their high quality powertools, and with the DW715 we have yet another great example of their expertise and quality manufacturing.
In choosing the best compound miter saw we stuck to single bevel models, as these are priced much lower.
Aside from that, we were looking for a product that really delivered where it mattered – with power and accuracy at all angles (this is a compound option, after all), reliability, and user-friendliness.
The Dewalt DW715  is a single bevel saw and ticks all these boxes, and for a very reasonable price. This product got great ratings from reviewers. If you're in the market for a powerful and accurate compound miter saw at a great price, you'll love the Dewalt DW715.
Pros of this compound saw
Very accurate, thanks to the excellent build quality
Easy-to-adjust camlock handle for setting the miter angle
Cons of this compound saw
Pretty terrible dust collection
Check price & read reviews at Amazon
DeWalt DW715 compound saw benefits
Compound miter saws are very useful, thanks to the ability to not only make miter cuts, but also make beveled cuts.
And of course, to make miter and bevel cuts together – which, as you probably know, is a compound cut, and where these products get their name.
With such capability, compound miter saws come in very handy not only in workshops but also for homeowners, or anyone who regularly has wood projects that require cutting. A standard miter saw with no ability to tilt the blade left and right lacks a lot of functionality when compared to a compound option.
Being able to do bevel and compound cuts as well as miters is a huge upgrade – and in fact, it's sort of difficult to find standard non-compound versions days.
Even the cheapest options compound versions – check out the Hitachi C10CFE2, for example.
These are very useful tools, and they're the new standard. Prices are so low these days that if you need one, it might as well be a compound miter saw.
Why We Chose the Dewalt DW715 mitresaw
Dewalt simply does everything right with the DW715.
Not only do they absolutely nail the most crucial features of any miter saw (power and accuracy), but you also get the full raft of additional features that make user-friendliness a dream on the DW715.
From the powerful 4000 rpm motor, to pinpoint precision, to the positive locks for miter and bevel adjustments, and the extendable fence – Dewalt does everything right, and they do it for a great price.
To get such an excellent product from the famed Dewalt and for such an amazing price, is a really great deal.
The Dewalt DW715 will be loved by professionals, homeowners, and all sorts of hobbyists alike.
Check price & read reviews at Amazon
---
Best 10-inch Option: Makita LS1040
Makita LS1040 10-inch miter saw review
Powerful 15.0 AMP motor, 4,600 RPM
Bevel cuts up to 45° to the left
Miter cuts 0°-45° left and 0°-52° right
Precision machined aluminum base
If this 10 inch miter saw from Makita looks basic and compact, that's because it is.
But, this isn't a downside. The LS1040 is a great non-sliding version that provides a certain no-frills quality that comes at a wonderful price – It's also the top rated 10 inch option in most reviews.
It packs a punch with its 4600 RPM motor, and also has great features to aid accuracy such as positive locks at common miter angles.It's got not only power and accuracy, but also great portability as it comes in at just 27.3lbs.
All of these great features, for a pretty unbeatable price. Any 10 inch compound miter saw you find for cheaper than this, will definitely have serious trade-offs in terms of quality.
The Makita ticks all the boxes and delivers strong and reliable results at a great price point. Highly recommended!
Pros of this 10-inch saw
Powerful 15 amp, 4,600 RPM motor
Non-sliding arm makes for rock solid stability
Great fence
Cons of this 10-inch saw
Dust collection isn't the best
No option to get a stand
Click here to read our Makita LS1040 review.
Check price & read reviews at Amazon
Why We Chose the Makita LS1040 saw
Makita seems to have found a niche for themselves within the compound miter saw market, as their 10 inch versions tend to be pretty great. In fact in our "best 10 inch" category, Makita has claimed both first and second places.
First place of course goes to the LS1040, and we gave the runner up position to the Makita LS1016L.
Our winner is a non-sliding 10 inch compound miter saw, while the LS1016L is basically the big brother.. also a 10 inch version, but has a sliding mechanism.
The sliding version is of course more expensive, but it otherwise provides a lot of the same no-frills quality that you get with our winner, the LS1040.
When people hear the term "no-frills" they tend to attribute something negative to it… but, this could not be further from the truth with these Makita miter saws.
No-frills means these saws are basic, but does not mean they lack quality.
For this price, it is of course only a single bevel saw – to the left.
There's enough power in the LS1040 to tackle any projects you give it, and this is combined with familiar precision and accuracy that's so very important with any you choose to buy.
You get all the nice features you'd expect on more expensive miter saws – positive stops at common miter angles, dust collection bag, included blade, smooth, accurate, and secure miter and bevel adjustments, and plenty of power from the 15 amp motor.
The overall build quality is also great.It has the typical robust toughness that Makita powertools are known for, with a precision machined aluminium base that ensures accurate cuts.
Whether you go for the non-sliding option (LS1040, our winner) or the sliding compound miter saw option (the Makita LS1016L), you'll be satisfied with the power, accuracy, build quality, and importantly, the price.
Check price & read reviews at Amazon
---
Best 12-inch Option: Hitachi C12RSH2
Hitachi C12RSH2 12-inch miter saw review
Powerful 15 Amp motor
0-57 degree miter angle range, to the right and left
0-45 degree bevel range, to the left with adjustable bevel stops
Sliding fence raises to 5-1/8 inches
Hitachi C12RSH2 – Top rated 12 inch saw
The C12RSH2 from Hitachi is a truly great deal – there's some serious bang for your buck here.
This is a dual bevel sliding compound miter saw.
Dual bevel meaning that it can bevel to the left or right, and sliding meaning the blade is on a sliding arm which increases cutting capacity.
This functionality comes at a great price, as the Hitachi is often cheaper than other comparable options from large manufacturers.
With a laser guide and advanced vibration-reducing handles, the saw is a dream to use.
Plenty of power to tackle tough jobs, and tons of versatility thanks to the double bevel and sliding capabilities.
This is a capable and excellent product that will serve you faithfully, for a great price. The combination of these two things is what gives it the top spot for best 12 inch miter saw.
Another 12 inch miter saw worth considering
The Hitachi comes at a great price… but, that's a great price for a whole lot of functionality (being both a dual bevel and sliding miter saw).
And while it's great bang for your buck, it's still pretty pricey in terms of raw dollars.
If you're on a budget, you might want to consider another 12 inch miter saw that's been getting great reviews for years: the Makita L21221.
The Makita is a 12 inch version and also cheaper than the Hitachi suggested above – but, it also lacks some functionality as compared to the Hitachi.
It's a compound miter saw, meaning that it can cut miters, bevels, and compounds (which are a combination of a bevel and miter cut at the same time).
But, it's not a sliding version – meaning a more limited cutting capacity.
It's also not dual bevel. It can only bevel to the left.
As you can see when compared to the Hitachi, the Makita L21221 is a much less capable saw.
But, it's still a great product and is cheaper.
So if this fits your needs or if price is a concern, definitely consider the Makita.
Check price & read reviews at Amazon
---
Best Budget Option: Hitachi C10FCE2
Hitachi C10FCE2 budget miter saw review
Powerful 15 Amp motor
0-52 degree miter angle range, to the right and left
0-45 degree bevel range, to the left with adjustable bevel stops
Dust collector attachment
When considering the best budget miter saw, price is of course one of the main concerns.A lot price isn't enough. A budget option also needs to actually work – it needs to be powerful, accurate, and reliable.
The Hitachi C10FCE2 is the only reasonable choice for a budget miter saw. This is a powerful tool, with great bevel and miter adjustment settings, functional fence, and even an additional material support wing on the left side.
All of this, and the price is stupidly low. I mean seriously, just go check out the reviews. The bang for your buck with the Hitachi C10FCE2 is ridiculous… This is a budget tool, but it outclasses other options that are twice the price. It is truly the best budget miter saw for the money.
For hobbyists, homeowners, or anyone who needs a quality saw at a good price – you'll absolutely love the Hitachi C10FCE2.
Pros
Powerful 15-amp motor which runs at 5000 RPM
Great bang for the buck
Will reliably make precise cuts
Cons
Dust collection is pretty awful
Pretty bad setup guide
Click here to read our Hitachi C10FCE2 review.
Check price & read reviews at Amazon
Why We Chose the Hitachi C10FCE2 budget saw
Hitachi may not be one of the famed powertool manufacturers, but don't let the lack of big brand fame fool you – the Hitachi C10FCE2 is a great 10-inch compound miter saw.
In fact, that exact lack of big brand fame is actually beneficial.
What comes with big branding is a big price tag. The Hitachi on the other hand, is very reasonably priced and delivers an incredible bang for your buck.And this is truly what makes the Hitachi a great choice of compound miter saw – It's a no frills powerhouse that offers incredible features and functionality for a very fair price.
The C10FCE2 performs well in more than just the price department.
It's is a single bevel version, to the left. While it allows miters from 0-52 degrees both left and right.
The powerful motor draws 15 amps and runs at a crisp 5000 RPM – plenty of power to tackle most jobs.
For this price range, some miter saws tend to be inaccurate. There's play in the arms or blade, and you have to fight with the tool to make it do what you want.
But that's not the case with the Hitachi – You'll be glad to hear that it should be fully accurate out of the box.
There's also a great fence which extends to 4 inches high, and can be raised higher by screwing on some wooden extensions if needed.
Hitachi simply tick all the boxes with the C10FCE2, and for a great price.
There's also some extra features (that cost extra) that many will find useful – a stand, and a laser guide.
Check price & read reviews at Amazon
---
Our Top Picks
<— SWIPE —>
---
Buying Guide
We have a lot of other articles that go in-depth about all the different features of miter saws, and what you'll want to be aware of before making your buying decision.
This section of our buying guide summarizes everything, but we encourage you to check out the more in-depth articles which are linked to throughout. The first thing you gotta know when deciding on the best option for you, is about the different types that are available.
Choosing The Best Miter Saw: Different Types
Here's what's available today:
Chop saws
Miter saws
Compound miter saw
Sliding compound miter saws
Chop saws were the first iteration of this tool, and they're difficult to find these days. Even if you do find them, they're not worth buying because they're of comparable price to the more capable miter saws.
Chop saws just let you do a straight 90 degree cut, nice and simple. Miter saws are the next step up – they're similar to the chop, except they also let you make miter cuts by adjusting the blade horizontally left or right to the correct angle.
The next level are compound miter saws. These not only have the ability to make miter cuts, but also beveled cuts. And of course, it can make both of these cuts at the same time.
That's what makes a compound cut, and where this version of thetool gets its name.
Finally, we have the sliding compound miter saw. These are similar to the standard compound options, except the blade can slide out over the work piece to make for a greater cutting capacity. This is a nice feature, as lack of cutting capacity is the main drawback of any of these saws.
You'll have to decide which of these is best for you based on your needs.
If you're a professional looking for the best option, you probably want a sliding compound version. But if you're a home owner or hobbyist, you might be satisfied with just a normal or compound miter saw.
Important Miter Saw Features
To make this a bit quicker, I'm going to lump a few of the quick-to-discuss features into a single section – we'll call it "general features".Then after that we'll get into discussing some of the more important features in their own sections.
General Features
The very first thing to mention is the motor. It is of course what provides the cutting power – but for the most part, motors all do their job well.
You should be more concerned with the features that put that power to good use – the fence, miter and bevel gauges, and so on.
Avoid getting too caught up on the motor – most manufacturers do just fine in this department.Another simple thing to be aware of is the blade size. We'll talk about blades in their own section later.. but, the best choices generally comes with a 8, 10, or 12 inch blade. Obviously, a smaller blade will make for less cutting capacity.
The fence is also very simple yet important feature. A fence should be solid, level, and also tall enough to handle whatever it is you'll be cutting. Crown molding, for example, would not be easily cut on with a 2 inch high fence. Now, I must sadly talk about dust collection.
Dust collection is a misery on even the best miter saw, and it's very hard to do effectively. It can be done with a lot of effort and setup, but out of the box almost every option available is awful at this.. they'll include dust collection bags and such, but they're generally useless and will miss 90% of dust.
But not to worry, there are plenty other features that make miter saws stand out. Now, let's move right along to the features important enough to merit their own sections.
Mitersaw Safety Features
There are 4 basic safety features that every miter saw should be running:
Electric brake
Blade guard
Safety clamp
Lockout trigger
The job of the electric breaks is probably obvious – after the tool is powered off after a cut, the electric brakes kick in and stop the blade.
They cut the stopping time down to a matter of seconds, which is great for safety.. you don't want a rogue blade spinning away for a long time after every cut.The blade guard does exactly what it says on the tin – it's a plastic guard that covers the blade.
It lifts up as you move the blade downwards, so the blade can do the actual cutting.. then, as the blade is being raised after a cut the guard will slide back down over it.
The blade guard is probably the most important safety feature.
Safety clamps are simply used to hold the work piece tightly in place when cutting.
A lockout trigger is a switch on the handle that will stop the blade being powered up accidentally. You gotta flick the switch or hold it down while making your cut.
Mitresaw Blades
There's more to miter saw blades than you might assume at first glance.
There's several different versions, each designed for certain tasks. They're made out of different materials, have different widths, and different numbers of teeth.
Talking too much about blades is beyond the scope of this article, since it's not directly related to the miter saws themselves.
But nevertheless, we've prepared a guide which covers the topic of saw blades thoroughly – I encourage you to read it.
The blade is the heart of a any saw, and a tool can be held back significantly by an inferior blade.
Standard vs Compound
Standard miter saws are the ones which only offer straight 90 degree cuts, and miter cuts at angles usually between -45 and +45 degrees.
This version is becoming less and less popular, and this is mostly due to the price of compound miter options coming down.
Compound miter saws are now generally in and around the same price as standard versions.. so as a buyer, you might as well go for a compound one with it's additional functionality.
A compound miter saw, as described earlier in this article, allows for miter cuts, beveled cuts, and compound cuts.
As you can see, there's a lot of additional functionality right there – and for a similar price to standard options, there's no reason not to go for a compound model.
They have single or double bevel variations.
Single bevel means the blade will only tilt either right or left, whereas a double bevel will tilt the blade both right and left.
There's some clear time and energy saving benefits here, but a double bevel will also cost you more.
Sliding and Sliding Compound
As mentioned above, the most capable (and expensive) version of these saws is the sliding compound miter saw.
The sliding arm provides the significant benefit of increased cutting capacity, but it comes at a cost.
The sliding arm mechanism makes the saw overall heavier and bulkier. This can really become an issue if you're working with limited space – the sliding arm needs space behind the saw to move out into as the blade is pushed backwards.
This basically means you'll need a 1-2 foot gap of open space behind a sliding compound miter saw, for the arm to move into. So, you can see what I mean by this being an issue in a limited work space. That's a lot of wasted space.
Some manufacturers are trying to be innovative in this space, with different arm designs that still allow the benefit of increased cutting capacity, but without the main drawback of needing so much space between the saw.
Either way, having extra cutting capacity when using a miter saw is a big plus.
More Information
You can find various other miter saw resources from WoodworkBoss linked to throughout this article.
I encourage you to check them out, although what we've covered in this article should give you a pretty solid understanding of important miter saw features, and which type of saw might be best for you.
Resources we referenced while preparing this article:
Summary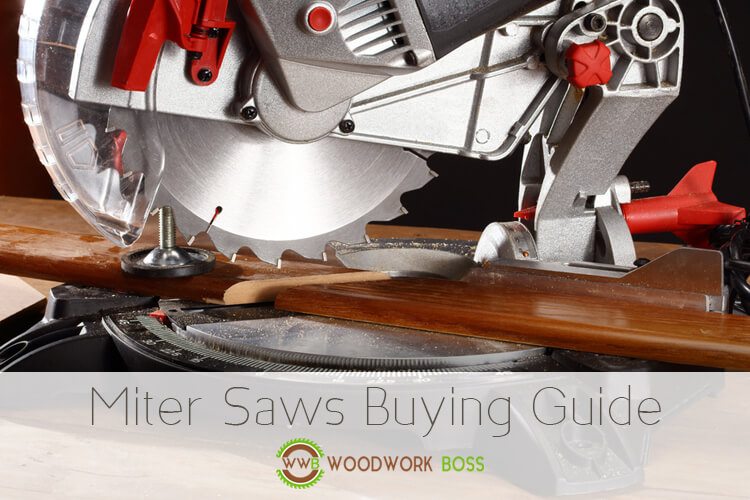 Article Name
Best Miter Saws 2018 - All Types Reviewed: Compound, Sliding, Etc
Description
Full breakdown of top miter saws - all types covered. Best compound miter saw, best sliding compound miter saw. Analysis & how to choose the best for you.
Author
Publisher Name
Publisher Logo