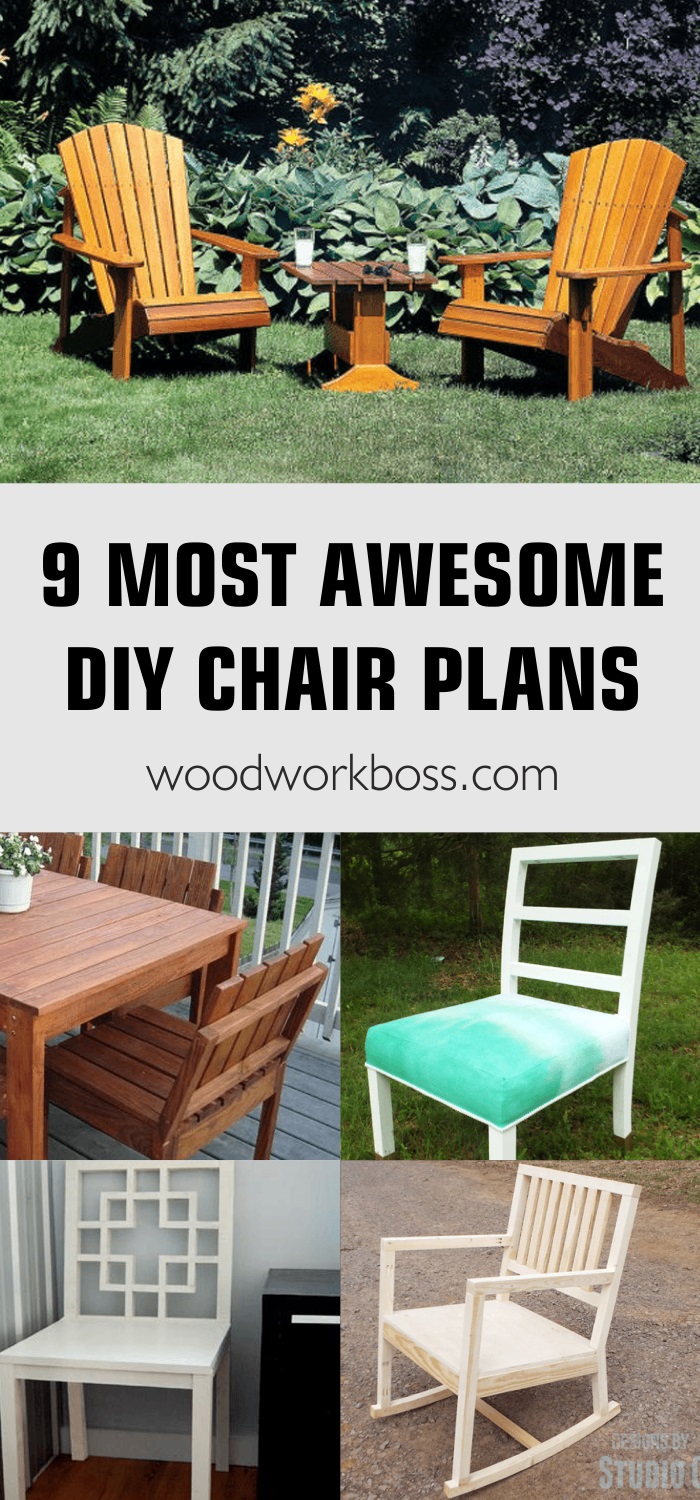 Best Wooden Chair Plans
It is often said you are not a woodworker if you haven't made a table and a set of chairs. Practical, comfortable, technically diverse and interesting to make – there are more than enough reasons why you should take wooden chairs as your next woodworking projects.
Though simple looking furniture piece, every woodworker knows how troubling it can be to craft a wooden chair. If you get just one tiny angle wrong, the chair can get tilted, have a very uncomfortable back or just go wrong in 101 other ways.
One thing is certain – with the variety of wooden chair designs out there you'd go crazy trying to go through all of them when deciding what kind of a chair to make. We have done that part for you, so check out these chair plans that give you not only inspiration, but step-by-step instructions on how to build the perfect chair!
Best Free Simple Wooden Chair Plans
Building a wooden chair can be an intimidating task, especially if you aren't so woodworking savvy yet. Who knew assembling a couple of wooden planks could be such a hard task!
Don't get scared just yet though! There are tons of different designs and several simple wooden chair plans that help you get through your first tests building a chair.
To help you get started, we have selected the best chair plans that have a simple design and less technical details, so even a beginner woodworker can get working on them. What's even better – all the chair plans are completely free!
Top 3 Free Simple Chair Plans
These 3 plans feature the easiest wooden chair designs that can compliment your kitchen area or provide seating for outdoors! Take a closer look:
These 3 all have a common trait – the "four legs and a back" design. Though they are simple enough, there are some technical differences in details that determine the difficulty of the particular chair plan.
Not sure yet which one to try out? Read this chair plan breakdown which will help you find the best chair design to build. 
 #1 – Simple Stackable Chairs

This wooden chair plan is the perfect way to go if you are looking for a simple DIY solution for crafting a nice chair set for your patio. The chairs are designed so they could be stacked, therefore they are not only nice looking but compact as well.
Another great news is the price: you could easily make the chairs with under $100, depending on whether you already have some planks lying around or how many chairs you want to build.
The only part to watch out for is the cutting. If you happen to let yourself loose while cutting then it can easily mean the chairs won't stack like they are supposed to. Fortunately, the cutting instructions are very clear in the chair plan so as long as you follow the plan, you'll avoid trouble!
Start crafting your chairs – go and check the chair plan from HERE. 
#2 – Anna Chair
The Anna Chair is the most classic type of chair you could imagine. That being said, it is also one of the most simple chair plans out there.
Reasonableamount of cutting details, fair price and clear instructions make it easy even for a beginner to follow it.
If there's one part that can cause some trouble, it is the curved leg and assembling the details overall. As with any chair, you have to pay extra attention to the cutting as even minor mistakes can ruin the end result.
Make this beautiful chair yourself with the help of this great chair plain that you can get from HERE. 
#3 – Squared Modern Chair
This plan is a good example of the sentence "devil is in the detail". You might be thinking it shouldn't be too hard to assemble a traditional chair but you couldn't be more wrong with this chair – it is definitely a chair plan for the advanced woodworkers.
To nail this project, you have to pay extra attention to cutting the details. Fortunately, the chair plan is easy to follow so if you have some woodworking experience, making this beautiful furniture piece shouldn't be much of a problem.
Check out the plan HERE and get working!
Best Free Adirondack Chair Plans
Though adirondack chairs don't seem as something very easy to make, you'll be surprised to hear they are not only stylish furniture pieces to decorate your porch, adirondack chairs are actually the easiest chairs to make!
Adirondack chairs are the perfect chair type to try your hand on even if you are a beginner woodworker – you don't need any fancy joinery; assembling is done with simple galvanized wood screws!
When making an adirondack chair, keep in mind it's purpose – to be an outdoor furniture piece. Therefore, cedar wood is the best option thanks to its' durability in weather, light weight and affordability. If you do decide to go for something else, try pine but accompany it with decent wood protection finishes.
Top 3 Free Adirondack Chair Plans
Adirondack chair plans are the perfect ones to give a try as a beginner woodworker. Choose one of these awesome chair plans as your next weekend project!
These 3 chair plans are not only amazingly easy to make and don't require advanced woodworking skills, they will look great on your porch! Just imagine sitting back and relaxing on a beautiful DIY adirondack chair.
If you are wondering which one of these is the best fit for you, take a look at this breakdown.
#1 – DIY 10-Dollar Adirondack Chair
You're thinking this sounds way too good to be true since adirondack chairs can cost quite much. Well, this is no trick – this DIY chair plan is a fine example of recycling and if you have some leftover wooden planks, then $10 is exactly the price ballpark.
This project is also made using cedar planks which proves again the point of cedar being the best wood for building outdoor furniture.
The chair plan is very easy to follow and best case scenario, it won't take even more than 2 hours to complete! Imagine: it will take even longer to go shopping for an adirondack chair. Budget-friendly and clever – this is a 5+ chair plan!
So what are you waiting for? Head over HERE to get crafting. 
#2 – Adirondack Chairs & Table
This great chair plan helps to create superb adirondack chairs that look like from a magazine – just imagine how cool these look in your backyard and think of the looks on your guests faces when they find out you made these!
The plan might be a bit harder to follow but it is definitely a nobrainer for anyone with even a bit of experience in woodworking. The secret is to follow the cutting instructions and when done right, assembling the chairs is the easiest part.
Check out the full details of the plan HERE. 
#3 – Stylish Adirondack Chair
Last but not least, this stylish chair is made by the hands of true professionals. Similarly to the other two, it is easily a woodworking project for a weekend. 
What sets this project apart from others are the extremely detailed instructions that are easy to follow and cover every bit of the project. If you are a beginner woodworker, you will benefit tremendously from the videos that support the chair plan.
Just go over HERE and check out the full chair plan – your new adirondack chair is waiting!
 

Best Free Rocking Chair Plans

Who doesn't love to take some time off, drink tea on the porch and sit in a relaxing rocking chair … The feeling of coming home after a long day and sitting on your favourite chair is priceless.
Even better is the fact you can make a rocking chair yourself with a bit of effort. Though it might be the most complex chair style featured in this article, the work pays off once you finish it and can enjoy your rocker in its' full glory.
Just remember one secret when following any rocking chair plan – it needs to be extra sturdy so pay attention to assembling. Also, you can add extra fastening just to be sure the chair is strong as a rock and can become somewhat of a family heirloom!
Top 3 Free Rocking Chair Plans
Take your woodworking to the next level by adding one of these beautiful rocking chair designs to your collection of finished woodworking projects!
Rocking chair designs are versatile and they can come in all different shapes, angles and sizes. These 3 plans showcase a variety of designs available, all of which will look absolutely gorgeous in the end! The best part is: rocking chairs are affordable and won't break the bank.
Not quite sure yet? Dig deeper and read more about these plans: 
#1 – Simple Rocking Chair
We didn't call this plan "simple" just for fun – it is likely the easiest of all the rocking chair plans available online (and it's a completely free chair plan!).
As you might have guessed it, the hardest part of making a rocking chair, is getting the angles right. Without doing so, you will either end up with a broken chair or just a very uncomfortable one.
Fortunately, the instructions of this plan are very clear so it shouldn't be hard to get the angles right! This is the one plan that won't leave you with scratching your head out of confusion.
Go and take a look yourself HERE & start crafting your brand new rocking chair!
#2 – Budget Friendly Rocking Chair
This is yet another marvellous simple rocking chair plan that will make it easy even for a woodworker newbie to get started with building nice and comfortable chairs. The end result is quite similar to the first plan but with some minor tweaks.
Similarly, this plan is also a wallet-friendly rocking chair version. You could actually make this with only $20! It all depends on the materials you use but it is likely you have some unused wood here and there – a rocking chair is the perfect place to find a use for such leftover wood!
You can also take a look at the "built from these plans" section where people showcase their work that is done from that specific plan. That allows you to see the plan in real-life action while you'll have a great opportunity to learn from others!
Don't wait any longer – go to THIS page and get your rocking chair plan!
#3 – The Shaker Rocker
The Shaker Rocker chair plan is a bit of a different take and showcases the step-by-step process of crafting a shaker rocker with woven tape seat.
This simple looking rocking chair however is not even near to being easy to make – following this rocking chair plan requires a lot more advanced woodworking skill level than your normal rocking chair. The end-result looks absolutely divine so in the end the efforts are well worth it.
If you are confident in your woodworking skills, why not give the Shaker Rocker a try and get the free rocking chair plan HERE. 
Conclusion
These wooden chair plans should give you plenty of inspiration for the next chair plan to tackle. Keep in mind that building a chair will test your attention to detail yet the beautiful practical result will blow your mind. Even if you are starting up with woodworking, take a challenge and build a beautiful chair this weekend!