21 Comfy DIY Bed Frame Ideas For A Whimsical Bedroom
Quality sleep is one of the key components in our health. Without getting a good nights sleep, it's nearly impossible to function properly.
But do you know what ensures those sweet dreams? A comfy bed frame of course! A fold-out bed will never give you the same comfort as one proper DIY bed frame. And yes, you read that right – you can make a bed frame yourself. Even more, by doing so you will save at least a few hundred bucks!
Keep reading to find 21 awesome DIY bed frame ideas that will inspire you.
If you want access to over 16,000 woodworking projects that give step by step instructions check out Tedswoodworking, the number 1 resource for woodworkers. 
1. DIY Twin Bed from Wooden Pallets
Project credit: couplejones.wordpress.com
Pallet furniture can never fail you. This project is a wonderful example of how to use budget-friendly materials and create something gorgeous with it. To make the pallet bed look even cooler, it has little wheels, so you can move it around.
2. Pottery Barn Inspired Farmhouse Bed

Project credit: diystinctlymade.com
This bed looks like it's made for kings and queens. If you don't want to pay a good $1,600 for a bed frame, then this project will be perfect – it costs just $250! Dark stain makes it look especially royal, but if you prefer something lighter, why not leave it with transparent stain.
3. Reclaimed Wood Bed
Project credit: mrkate.com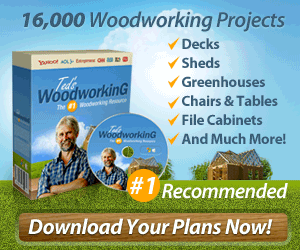 If you love reclaimed wood (and who doesn't!), then this bed is right up your alley. Thanks to minimalistic style, it fits amazingly for modern bedrooms and building this ain't too difficult either thanks to detailed instructions.
4. DIY Bed Frame with Headboard

Project credit: mycajuntrinity.com
Would you even have guessed this bed frame is DIY? It looks like store bought, though building it is not too complicated at all. You'll just need some lumber and motivation.
5. Reclaimed Wood Bed DIY

Project credit: theaccentpiece.com
This is another masterful reclaimed wood bed frame that stuns you from the moment you see it. Thanks to funky legs and the headboard, it looks luxurious and romantic, fitting for any bedroom decor. And the best part – it's basically free!
6. Mid-Century Inspired DIY Bed
Project credit: biggerthanthethreeofus.com
Believe it or not, this bed cost only $175! Contrary to bulkier builds, this one looks extremely minimalistic and due to the thin legs, it almost looks like it could break. Though, of course, you don't have to worry about that – this bed is completely sturdy!
7. DIY King Bed

If you also lack bed space, then this DIY king bed frame is perfect. Simplistic design, natural wood look, and huge size alone make this a desirable idea, but clear instructions just take it one step further.
8. DIY Herringbone Bed
Project credit: jennsblahblahblog.com
You knew there is going to be at least one herringbone bed on this list, didn't you? If you enjoy detailed work and love the luxurious look of the herringbone pattern, then follow this simple project. PS: your new bed can cost just a few hundred bucks!
9. DIY King Size Bed
Project credit: doityourselfdivas.com
Are you always lacking storage space? Here's one clever king size bed that has plenty of storage space thanks to small drawers, yet it doesn't look too bulky. White color makes it look even more beautiful, making it fit for true queens and kings!
10. Upholstered Bed
Project credit: viewalongtheway.com
This bed is inspired by Jonathan Adler's bed that costs a whopping $2,500. The DIY upholstered version cost just a bit under $300 and you'd never say it cost that little. If you love upholstered furniture, then look no further for a bed frame plan.
11. DIY Bed Platform with IKEA Expedit

Project credit: vanillajoy.com
Do you love IKEA? This clever idea merges together fine craftsmanship with IKEA Expedit shelf and looks perfectly balanced with the gorgeous white headboard.
12. DIY Platform Bed and Salvaged Door Headboard
Project credit: averielane.com
This incredibly unique DIY idea takes reclaiming to a completely new level. Besides the fact the bed is reclaimed in its nature, the headboard is made of a salvaged door. How cool is that!? If you are a fan of reclaimed wood, this project will amaze you.
13. DIY Platform Bed with Storage
Project credit: chatfieldcourt.com
We love ideas that help to use space cleverly and this project is a great example of that. Besides being a very simple and clever plan, it's made of MDF sheets, so it's also budget-friendly!
14. Hotel Style Headboard and Platform Bed
Project credit: inkwellpress.com
Looking for a clever way to use plywood? This clever project features instructions for building a headboard as well. Dark color and gorgeous modern headboard just make this bed a real pearl in your bedroom.
15. Custom King Size Bed
Project credit: thinkingcloset.com
Nautical theme looks gorgeous in bedrooms, but it can be tough to find a bed that fits this decor style. This is where this plan comes in. Reclaimed pallet wood gives the perfect rustic look that fits nautical style amazingly. And reclaimed pallets are popular not only in woodworking projects for your bedroom – you can make almost anything from such a simple thing as pallets are!
16. Simple Bed Frame
Project credit: themerrythought.com
Not all beds need to have legs! This one is probably the easiest bed frame you can ever make – you need just a few pieces of wood and one free afternoon.
17. George Nelson Case Study Inspired DIY Bed

Project credit: mid-century-modern.net
How does a $350 bed frame sound? That's exactly how much it would cost to make this bed frame. The small steel legs and thin frame make it look modern and stylish. Don't worry about the sturdiness either – the bed might look small and light, but it's definitely sturdy enough to last a lifetime!
18. Chevron Reclaimed Wood Bed
Project credit: jenwoodhouse.com
This West Elm inspired queen size bed is entirely made of reclaimed wood, costing under $200! You can get extremely detailed plans from Jenwoodhouse.com, so building this cool West Elm knock-off is no problem.
19. King Slat Bed for $150

Project credit: kiwiandpeach.com
After seeing this project, you'll never want to buy an Ikea bed since this one costs just insanely little. It features cedar that instantly gives a rich look to the whole bed, even though the build is so easy. The project includes all details you'll need, so you won't have to worry about the build being complicated either.
20. DIY Floating Bed
Project credit: removeandreplace.com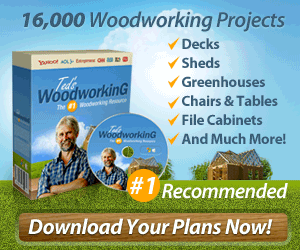 No, your eyes are not mistaken – this bed REALLY does look like its floating! That's achieved with the help of LED lighting. If you want to impress your guests, this will be a fitting bed for your guest room.
21. DIY Poster Bed
Project credit: jaimecostiglio.co
If you want to feel like a queen, then poster bed is the perfect fit. The bed is built by Ana White's plan, with some little modifications. Simple, affordable and looks gorgeous – that's what we like to see in our favorite DIY bed frames.