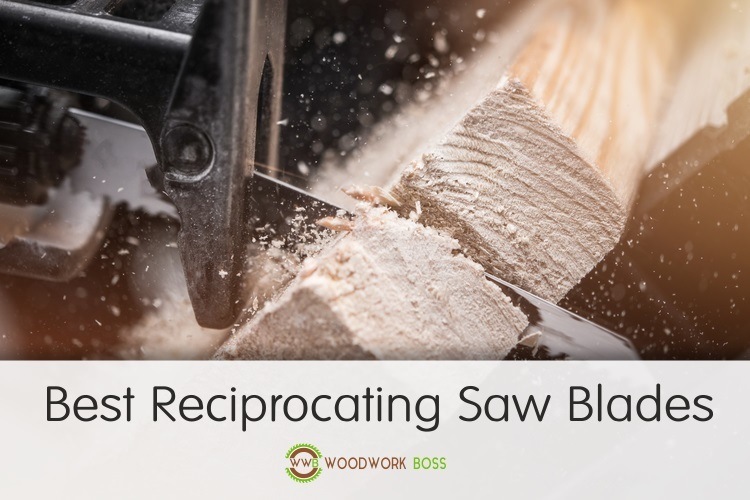 Choosing The Best Reciprocating Saw Blades 2018
Good blades can be hard to find these days, but only if you don't know what to look for. Customer confusion is high in the saw blade world, and particularly tricky when you're dealing with reciprocating saw blades.
Whether you have a top model that set you back a few hundred bucks or something a bit more affordable, we have compiled a list of the best reciprocating saw blades. There are also some handy tips included in our guide that you'll want to remember any time you shop for blades.
[table id=40 responsive=scroll /]
Considerations before buying Reciprocating Saw Blades
Blade Material
Blades aren't high-tech, and even the most exotic ones are still relatively affordable. That said, there are several things to consider including the type of material the blades are made from.
Carbon Steel Blades
Reciprocating blades that are made from carbon steel are an inexpensive option if you need to cut a lot of wood. You can find them in any hardware store, and they will work wonders on softer woods.
If you need to cut through harder stock or metal, you may want to consider other options. They are great for quick cuts with wood however and somewhat flexible to boot.
Bi-Metal Blades
This blade is a combination blade of sorts as it combines the best properties of carbon and high-speed steel into one blade. They will last longer than traditional blades or even regular HSS blades and come in a variety of sizes and styles.
High-Speed Steel Blades
When a blade is made from high-speed steel, you're going to have to pay a little more for it. That's because these blades are harder which makes them suitable for hardwoods. They are a great "all-around" blade if you want something durable and stronger than Carbon.
Carbide-Tipped Blades
Carbide-tipped blades are by far the most common when it comes to bi-metal reciprocating saw blades. They are great when you have something tough you need to cut through and are fairly affordable in most cases as well.
Carbide-Grit Blades
Many people use reciprocating saws on metal and wood, but you can cut other materials including some exotic options. Tile is a possibility, and fiberglass can be cut easily if you have the right blade. A good grit blade is what you will want to have on hand if you need something abrasive.
Diamond Blades
Last, but certainly not least are diamond blades. As the name suggests, these blades are "tipped" with diamonds which make them expensive and not something you want to cut wood with. They can tackle materials like glass and ceramic however along with concrete.
Teeth Per Inch
Whenever you see a manufacturer mention "TPI" they are talking about the teeth per inch.
This is important as it lets you know what types of materials a blade will work well with. They can range anywhere from 3 TPI up to 24 TPI depending on what you need. If you want to make a finer cut, stick to a blade with plenty of teeth – the more, the better.
For rough cuts where speed is key, you can jump down to a blade with fewer teeth. This style is best suited for wood while blades with loads of teeth are great for thin metal.
Blade Length and Thickness
When it comes to blade thickness, you need to keep one thing in mind. Thinner blades are more flexible, but they will also snap a lot quicker than a thicker blade. If you want to make an accurate cut, you need a nice, stable blade.
That also ties into the length as the longer the blade, the more flexible it is by design. Even the strongest blades will have some flex if they are long enough, so keep both of these areas in mind when you're searching for the best reciprocating saw blades.
Buying Guide
[table id=40 responsive=scroll /]
Best Overall Reciprocating Saw Blade: DeWalt DW4856 Metal/Woodcutting Reciprocating Saw Blade Set
We chose the DeWalt DW4856 reciprocating saw blade set as our choice for two main reasons. It is extremely affordable, and you get blades that can put a fine cut on wood or rip right through metal. It is a versatile little pack.
This set comes with a total of 6 blades that range from 5/8 TPI up to 24 TPI. They are all of the bi-metal variety as well, so they will hold up longer than a regular off the rack blade. There are three types of blades for each material, and we are going to start with wood.
The DeWalt WD4801 is a blade built with a "PlungePoint" which makes it great for old lumber that may have a nail or two. It has 6 TPI whereas the DW4847 is another wood blade with 5/8 TPI. Last but not least is the DW4806, which works with wood, but can also cut metal making it an outstanding dual-purpose blade with 10 TPI.
When it comes to metal, the options aren't nearly as exciting as there are three blades with 14 TPI, 18 TPI, and 24 TPI. Every blade in the set is 6-inches long, and they do not come with a case, so you'll need to have something on hand to store them once you pop the pack.
You also can check our guide for DeWalt reciprocating saw.
Click here to read user reviews on Amazon.
Best Reciprocating Saw Blade for Wood: Bosch RP125
Whereas our top option allows you to cut both metal and wood, the Bosch RP125 set is built for one thing. That would be wood, and this set is for professionals that truly want the best reciprocating saw blades for wood.
These blades come 5 to a pack and are massive. At 12-inches, they are twice the size of most blades, so you will experience some flex. What you won't experience is any resistance as these blades will tear through timber with ease.
At only 5 TPI, the Bosch RP125 blades will make short work of anything in their path. They have a 5-degree tilt angle as well which improves performance while increasing the longevity of the blade.
These blades are color coded for easy identification and are actually strong enough to stand in for a small chainsaw on occasion. They are not cheap, but well worth it if you it want one of the best Sawzall blades.
Click here to read user reviews on Amazon.
Best Reciprocating Saw Blade for Metal: Freud DS0908CF
Now we are going to turn our attention to metal, and a set of blades that stand out from the rest. These come from Freud, and you'll need to have your head checked if you pass them up.
These blades are winners for their ability to slice through metal but also for their name. The Freud DS0908CF is dubbed the "Steel Demon," and it's carbide-tipped to boot. At 9-inches, thick metal is certainly no match for these blades.
The major perk of this particular blade is those carbide tips. It prevents damage to the blade from impacts or if the saw becomes bound. In other words, they will last longer than your typical blade and are an option as one of the best blades for metal.
The Freud DS0908CF isn't expensive given its size and the quality, but you will only receive one blade per pack so keep that in mind. However, if you're looking for the best sawzall blades for metal, Freud is the one to go for.
Click here to read user reviews on Amazon.
Conclusion
Now that you know all the different reciprocating saw blade types, you should be able to make an informed buying decision. Budget shouldn't be a concern as none are overly expensive, so you simply need to focus on the quality of the blades. You'll also want check the pack sizes to ensure you always have enough blades for the job at hand.
To learn more about different types of reciprocating saws you can check our articles about the best corded and the best cordless reciprocating saws.