DIY Wood Bottle Opener For Under $7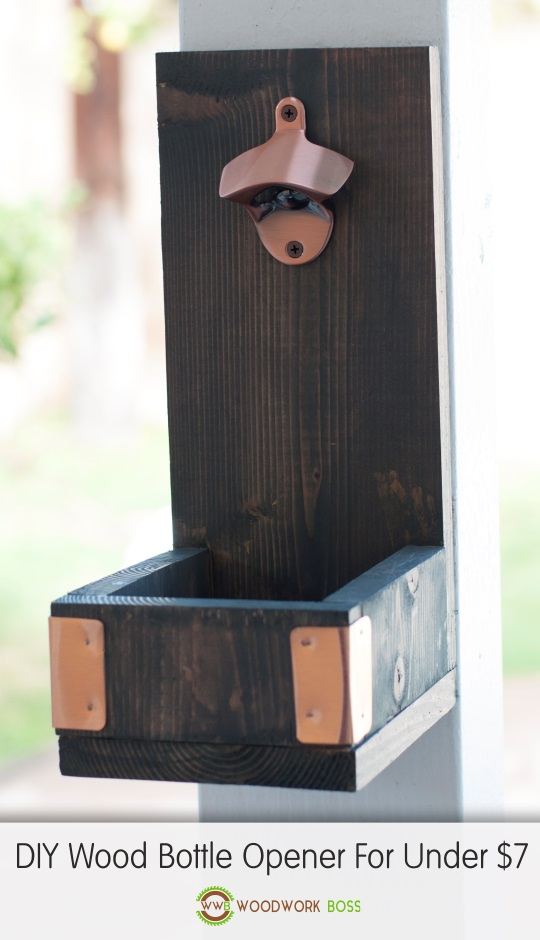 Today we've got a dead simple project for you with this cool and useful DIY wall mounted bottle opener.
Not only does it look great but it's also useful and would make a great addition to your patio, deck, or anywhere indoors.
This would also make a wonderful and unique gift!
Whether you're a beginner builder or more experienced, this is a fantastic little project that you can whip up in just an hour or two.
This article has everything you'll need – Cutting list, step by step instructions, and lots of pictures!
This project was built in partnership with our friend Anika at anikasdiylife.com
Required materials
1″ x 6″ board
Wood glue
1 1/4″ finish nails
Wall mounted bottle opener
Paint or wood stain
Optional: copper trim
You'll see that on our project there's copper trim on the corners to match the dark wood stain and copper bottle opener.
We think this looks great, but you can make up your own mind on that – If you choose different colors or styling, we'd love to see it!
Tools you'll need
Miter saw, table saw, circular saw, or hand saw
Drill or screwdriver
Brad nailer or hammer
For cutting, a miter saw is probably the easiest option although a table saw would work nicely too.
Without either of these, you can still work with a circular saw or hand saw – You'll just have to be more careful and precise as these are "free hand" tools.
After this, whatever tools you're using for drilling and driving nails shouldn't make much difference.
Cutting list
1″ x 6″ x 12″ (x1 for back panel)
1″ x 6″ x 2.5″ (x3 for sides & front)
1″ x 6″ x 8″ (x1 for bottom)
You'll see that all the cuts start with 1″ x 6″ – This means everything can be cut easily from a 1″ x 6″ board, which you can get from your local hardware store or lumber yard.
You only need 2.5 – 3 feet of this 1″ x 6″, so you might even have some scrap wood lying around that will do the trick!
Step by step instructions
Step 1: Use your saw to make all the cuts.
Step 2: Attach the front and two sides together. Using a flat surface will help keep everything square. Attach first with glue, and then 3 finish nails for each side.
Step 3: Attach the back to the two sides. Use wood glue first, and then 2 finish nails on each side.
Step 4: Attach the bottom. Use the same method – wood glue first and then finish nails. Use about 3 nails along each side.
Step 5: Stain or paint. Whatever style you've chosen, now is the time to apply your stain or paint and give it time to dry.
Step 6: Attach bottle opener. Measure half way across the back board and make a little center line – This will make it easy to center your bottle opener and screw it in place.
Finished!
If you make this project, make sure to let us know because we'd love to hear about it.
And if you like this bottle opener be sure to share it with your friends!