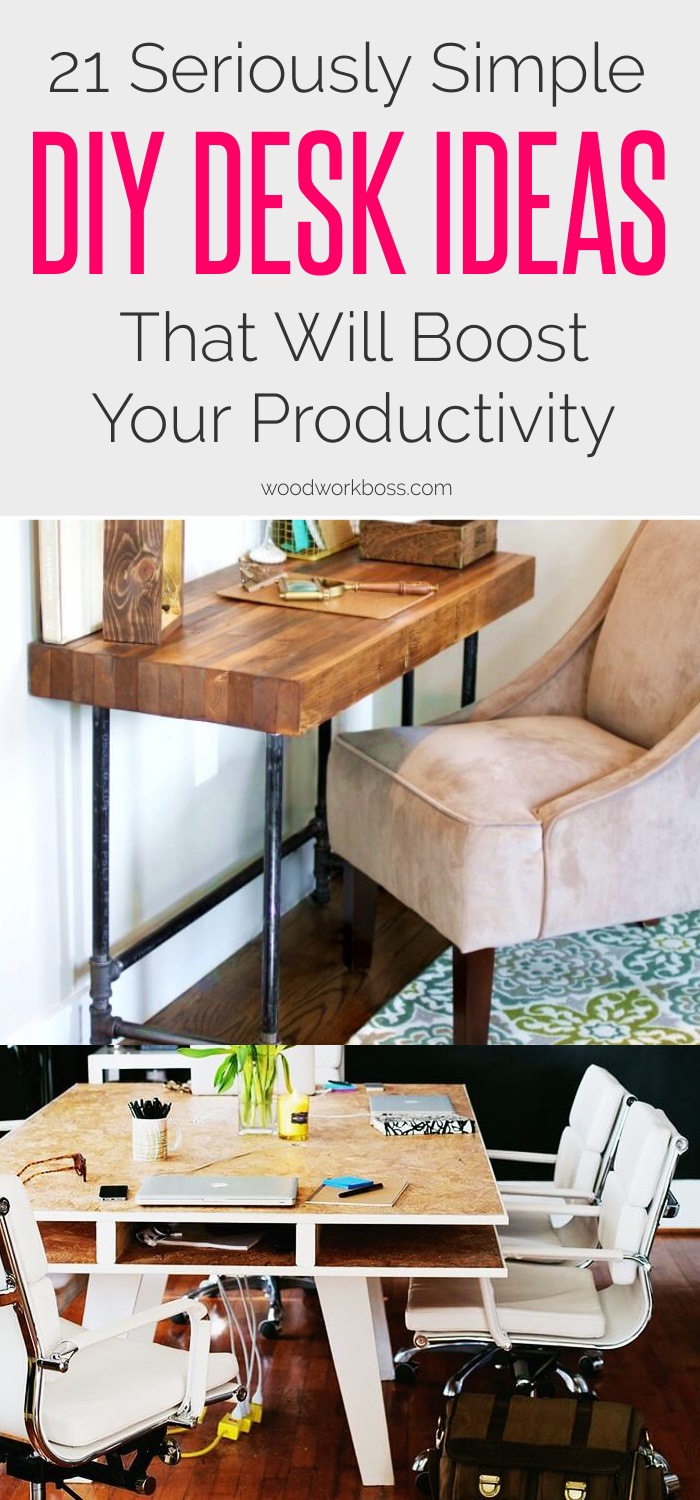 Best Woodworking Desk Plans
Nothing kills your productivity like a lousy workspace.
What makes for a great workspace? A desk, of course! And you know what will increase your productivity even more? Making a DIY desk. It seems like an intimidating task at first, but trust me when I say this – there's nothing easier than making a good old work desk. It's perfect as one of your weekend woodworking projects!
If you want access to over 16,000 woodworking projects that give step by step instructions check out Tedswoodworking, the number 1 resource for woodworkers.
Check out these 21 simple DIY desk ideas that will not only look fancy in your home, but will come in handy when it's time to get some serious work done.
21 Simple DIY Desk Ideas That Will Boost Your Productivity
1. L-Shaped Double X Desk
Project credit: handmade-haven.com
I'm a big fan of corner desks – there's simply nothing better for filling that empty corner in your home office. This diy desk plan features a great rustic desk with simple design, compiled mainly of 2x4s.
2. DIY Piping Table
Project credit: housebyhoff.com
Who would have imagined piping could look so great as a desk? Don't worry about having no special woodworking skills – making this desk is easier than putting together Ikea table! Same goes for materials: few pipings and a butchers block is all this one needs.
3. Industrial Desk
Project credit: craftthyme.com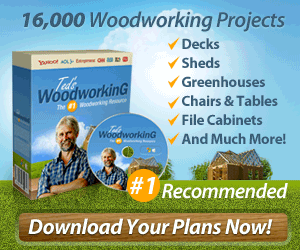 This desk is relatively similar to the previous one, with the main difference being the "bulky" style. Instead of one single wooden block, the desk's top is made of several pieces of lumber, all nicely stacked side by side.
4. Modern Desk Base
Project credit: ana-white.com
Ana White strikes again with a wonderfully simple desk plan. What makes this one unique is its' flexibility – you can design your own desk with the help of Ana's plan and customize the desk style the way you like it.
5. Standing Desk
Project credit: abeautifulmess.com
We all know it's not healthy to sit behind a desk whole day long. That's why this standing desk plan is especially helpful. The design is very minimalistic, which makes this a great design for smaller spaces.
6. DIY Desk for $70
Project credit: shanty-2-chic.com
If there's one thing we love more than a simple DIY idea, it's an affordable DIY idea. This incredibly beautiful rustic DIY desk cost only $70 in lumber! It might not be the easiest desk, but it sure is budget-friendly.
7. Truss Desk
Project credit: shanty-2-chic.com
Here's another great desk plan by Shanty 2 Chic. Similarly to the previous desk, it's budget-friendly – all the wood you need is six 2x4s and three 1x6s. Even if you don't have tons of experience, you'll have step-by-step pictures and a detailed plan guiding you.
8. Pallet Desk
Project credit: fringefocus.com
You can make literally anything from pallets, so why should desks be any different? This plan features a funky pallet desk which is cut in angle, so besides out-of-the-ordinary materials, you'll get to build one very unique piece of furniture. Better yet, it is all recycled!
9. Hairpin Leg Desk
Project credit: homedit.com
If you liked the piping desk style, you'll love this one. This sleek desk will look amazing in your home office or even kids room. You'll need just two panels, hairpin legs and a few finishing tools. If you prefer natural wood, you don't even need to stain it and can just cover it with simple finish.
10. Minimalistic Oak Desk
Project credit: designsponge.com
Have an empty wall space and nothing to do with it? Not all desks need legs and this one is a great example. It utilizes perfectly your empty space and puts it in practical use. No bulky legs and no space wasted!
11. Craft Room Desk
Project credit: howtonestforless.com
If you're in the middle of remodeling and are trying to find the perfect desk with plenty of storage, you might be torn since bigger workspaces usually cost tons. Not this one though! This tutorial is a great blend of recycling and reclaiming.
12. Simple White Desk
Project credit: ahomefordesign.com
Are you a fan of IKEA? This DIY desk plan features a great table top from IKEA. Thanks to fine finishing, the desk gets a modern look that looks straight like out of a design magazine.
13. Desk with Plenty of Storage
Project credit: diydoneright.com
The perfect office desk definitely needs plenty of storage. That's not going to be a problem with this desk though! Besides having a cool "grungy" feel to it, it has massive storage space which can easily fit your printer and other office tools.
14. Multifunctional Pipe Leg Desk
Project credit: diyprojects.com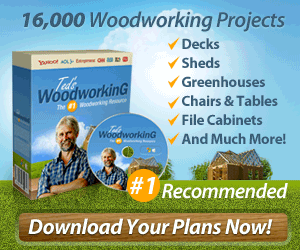 We can never get enough of cool pipe leg desks. This is another alternative version of the good old pipe leg design, this time with a more rustic feel. As it looks very stylish, you can even use the desk as a dining room table. There's nothing better than a multifunctional furniture piece!
15. DIY Desk from a Door
Project credit: nourishandnestle.com
Would you have ever guessed this desk is made of an old door? But that's exactly the case here! This inspiring idea proves once again how far creativity and recycling can go. If you have some old wood you were planning to scrap, then think again and use it for a new desk instead.
16. Simple X-Desk
Project credit: alinadesignco.com
If you are looking for a sturdy DIY desk, then look no further. The inspiration for building this one came from Ana White's plan, but the desk itself is built completely from scratch. If rustic style is your thing, then why not get some inspiration from this plan?
17. Little Art Desk for Kids
Project credit: u-createcrafts.com
Let's not forget about little ones either. If you want to keep your kids away from your office desk, then this little art desk will solve that problem. It's actually made of old cabinet doors and is built so the top would close – then the drawings won't get lost.
18. Copper Pipe DIY Computer Desk
Project credit: amandamayphotosblog.com
Indeed, this is another version where pipes play a big role, but this time as a part of a bigger corner desk. Huge storage space, compact design and rustic style – this is literally the perfect office desk.
19. Simple & Sleek Rustic Desk
Project credit: pastpresentandpatina.com
Don't you think the white and brown combined in this design look cool and quirky? We do and we couldn't love this plan more! It has just enough space to fit desk organizers and your computer, but thanks to rustic farmhouse style legs, you needn't worry about storage space either.
20. OSB Office Desk
Project credit: abeautifulmess.com
You don't see OSB as a desk material that often, so this DIY desk idea is especially refreshing. The desk is designed to be big enough to fit at least 6 people with computers around it, so if you are looking to build a desk for your office, then this might be the one.
21. DIY Built In Desk
Project credit: findinghomefarms.com
What makes this desk clever is its' compact design which uses the wall space to the maximum. Don't be afraid if your DIY skill level isn't high – while it looks complicated, the desk is actually made of cabinets and plywood tops. Easy and budget-friendly are the main characteristics here!