A Beginners Woodworking Guide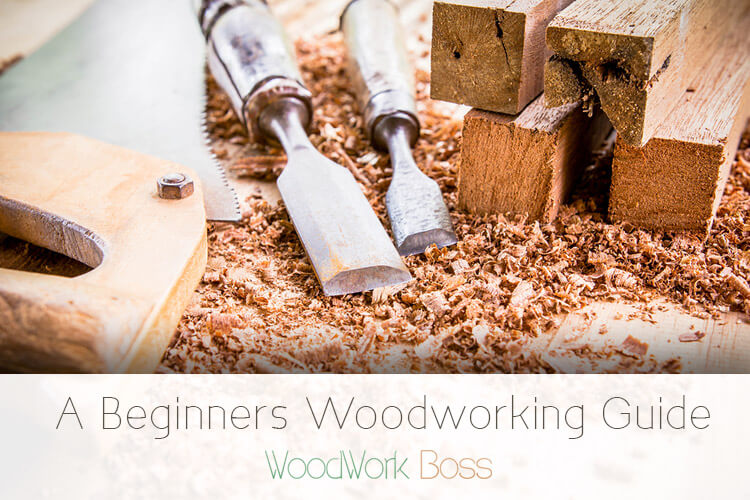 So you want to build some stuff, huh?
Well, I'm pleased to tell you that you're in the right place. Through one way or another, you've found your way to the WoodworkBoss.com beginners guide to woodworking.
This guide is the perfect place to start your woodworking journey, beginning with what you'll need to get started building stuff with wood and ending by suggesting specific project plans that you should follow for your first projects.
If you want access to over 16,000 woodworking projects that give step by step instructions, check out Tedswoodworking, the number 1 resource for woodworkers.
Without further ado, let's get started!
First Things First: You Need Space To Work
The first thing you're going to need on your woodworking journey is a space where you can work.
This is probably the main thing that stops people from taking up woodworking, because it can definitely be tough to create a little space in your home where you can make loud noises and hammer things.
But you really don't need that much space to get started. It's not as hard as you might think.​
A garage is ideal, but a decently sized garden shed could be just as good (if not better, you might disturb less people with your new noisy hobby). Even if you don't have a suitable garage or shed, as they say: where there's a will, there's a way.
Maybe you can use an interior room of your home? It's definitely possible. Some woodworkers even manage to build stuff in an apartment.
Basically if you have a home and a family that's reasonably understanding, then you can make this happen buddy!
Essential Requirements For Your First Workshop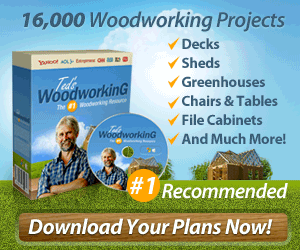 Don't just start re-arranging and throwing out old stuff to make space just yet. You gotta do some planning first.
Your workshop can be really compact, but there's still certain things that are essential to its usefulness.
We've made a comprehensive garage workshop guide. Yea, it's mostly focused on garages, but the principles apply to any space that you plan on using as your home workshop.
So now you've got your workspace decided and set up… you can probably guess what's next. Yep, stuff to put in your workshop.
And not just any stuff – TOOLS buddy, tools! Heck, I love me some tools.
Tools You'll Need To Get Started
If there's one main drawback to woodworking (and there is only one, in my opinion) it's that you need to invest in some tools before you can start doing much of anything.
Some woodworkers will tell you to just get some basic hand tools to start – a hammer, handsaw, chisel, clamps, nails, and screws.
Others will tell you that you need to go all out and buy a workshop-load of handtools, power tools, and all sorts of other accessories.
So who's right? It depends on you and your situation.
Maybe you've tried some woodworking in the past and you know for sure that you want to stick with it – in that case, maybe get some power tools to go along with your hand tools.
Maybe it's your very first time. You think it's something you will like but you're not certain and are hesitant about investing too much at the beginning. No problem, get some basic hand tools for simple projects and maybe think about some cheap power tools too.
Perhaps you have no clue what to do? Don't worry, that's me for most of my life, I got you!
A Balanced Approach To Your First Woodworking Tools
So here it goes fellas, a list of links to our hand-crafted tool buying guides.
This list contains our suggestions for what tools you should pick up to get started, and also links to comprehensive buying guides. So now you'll know what you need, why you need them, what your options are, and where to buy them.
Everything you need, right here:
As you can see, this list is pretty basic. It includes a nice mix of the essential hand tools you'll need, and a few power tools in there too that'll make your life a bit easier. A cordless drill, and a circular saw will make certain tasks much quicker – and also easier to get a quality result.
Please Don't Cut Your Finger Off – Read This Safety Guide
I'm not being overly-dramatic here either. Tools of any kind, especially power tools, deserve a serious amount of respect.
If you don't pay attention to your safety while woodworking, you could end up with much worse than a missing finger.
Take a moment to read our woodworking safety guide.
Time To Build With Our Directory Of Free Plans
Now it's time to put those tools and workspace to use, it's time at last to start building.
For your first projects you shouldn't be overly ambitious, just pick something simple that'll look good and that you can get practice by building. The more things you build, the better you get, the more technical you can get with your builds.
Once again we've got you covered with a directory of plans for all sorts of different pieces of furniture that are sure to look great around your home. Or you can give them away as gifts, or to those in need… or whatever you want. The main thing is that you build them!
Check out our furniture plans page, pick a category that interests you, and then you'll have a selection of great plans to choose from so you can get started.
Recommended Plans For Beginners
As mentioned above, I recommend that you keep it simple to get started.
Benches, workbenches, and bookshelves are all great choices for your first projects. They're not only simple but also useful – especially a workbench. Why not try to build your own workbench rather than purchasing one to get yourself started?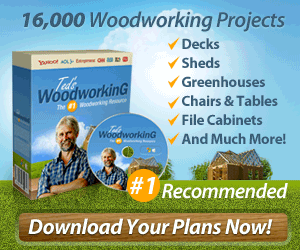 Here's a list of links to our directory pages for bench, workbench, and bookshelf plans:
Stay Tuned For More
Hopefully you find this guide useful to get started on your woodworking journey – but there's more!
Make sure to check our website regularly for woodworking tips, project plans, buying guides, and everything else you'll need on your journey into the wonderful and fulfilling world of woodworking.